News
Jimmy Carter Argues the United States Is 'At Genuine Risk of Civil Conflict'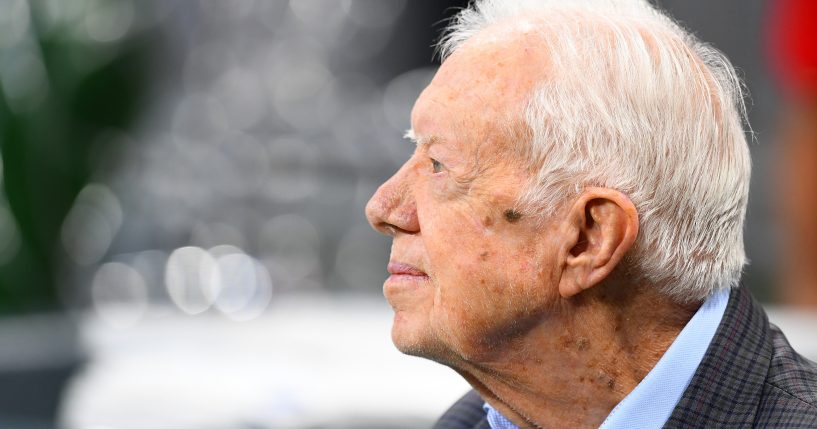 Former President Jimmy Carter warned Americans the country now "teeters on the brink of a widening abyss."
Carter penned an op-ed published by The New York Times just one day before the first anniversary of the January 6 riot at the U.S. Capitol.
The former president suggested those who claim the election was stolen "have taken over one political party and stoked distrust in our electoral systems."
Advertisement - story continues below
He continued, "These forces exert power and influence through relentless disinformation, which continues to turn Americans against Americans."
Carter accused politicians of leveraging distrust they created to "enact laws that empower partisan legislatures to intervene in election processes."
He explained one of his fears is the right to free and fair elections has become "dangerously fragile."
Reflecting on his own experience, Carter wrote, "I personally encountered this threat in my own backyard in 1962, when a ballot-stuffing county boss tried to steal my election to the Georgia State Senate. This was in the primary, and I challenged the fraud in court."
Advertisement - story continues below
He added, "Ultimately, a judge invalidated the results, and I won the general election."
Mentioning the establishment of the Carter Center, he stressed the importance of promoting free and fair elections.
Is the U.S. at "genuine risk of civil conflict"?
According to Carter, in order for democracy to survive, "We must demand that our leaders and candidates uphold the ideals of freedom and adhere to high standards of conduct."
The op-ed continues with Carter proposing five ways the country can ensure fair elections including, agreeing on fundamental constitutional principles, pushing for reforms to ensure Americans have access and confidence in elections, resisting polarization, passing laws to keep violence out of politics, and addressing the spread of disinformation.
Concluding his op-ed, Carter said, "Our great nation now teeters on the brink of a widening abyss. Without immediate action, we are at genuine risk of civil conflict and losing our precious democracy. Americans must set aside differences and work together before it is too late."
Truth and Accuracy
We are committed to truth and accuracy in all of our journalism. Read our editorial standards.
Comment Down Below
Conversation