News
Johnny Depp's Lawyer Reportedly Helps Injured Passenger on Plane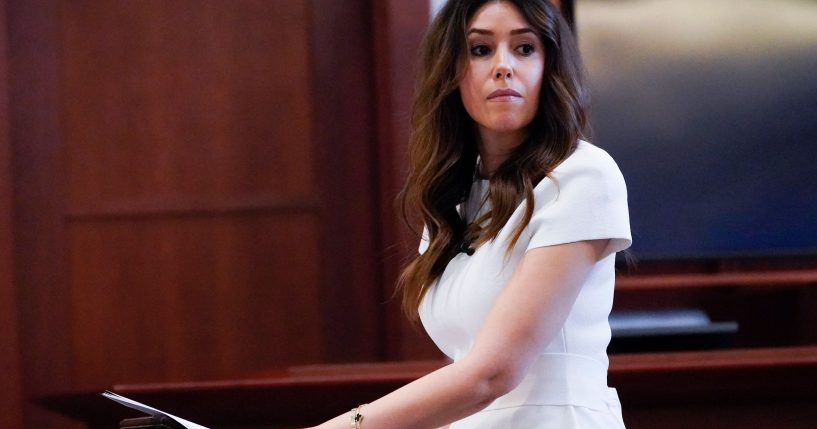 Johnny Depp's lawyer Camille Vasquez reportedly helped a man suffering a medical emergency on a plane.
According to TMZ, sources that flew on an American Airlines flight from Los Angeles to New York told the outlet Vasquez "rushed to assist an elderly passenger who collapsed and hit his head midflight."
The outlet explained a man in his 70s fell while walking past Vasquez and her bodyguard.
Advertisement - story continues below
After the flight attendants shouted for help, Vasquez and her bodyguard sprung into action, as TMZ reported.
Passengers told the outlet Camille was able to get in touch with her brother-in-law, a doctor, who began advising her through steps to see if the man was suffering a heart attack or brain bleed.
Her bodyguard reportedly used his apple watch to monitor the man's heartbeat.
A surgeon then came by to take over for Camille and her bodyguard.
Advertisement - story continues below
Additionally, TMZ reported one of the flight attendants told Camille she was "wonder woman" and gave her the gift of two bottles of Merlot and champagne.
Concluding the report, TMZ explained, "The plane turned back to LAX … when it landed the man was conscious and EMTs came aboard and escorted him off the plane."
Vasquez rose to fame while she was representing Depp in his defamation trial against his ex-wife Amber Heard.
During an interview with Good Morning America, Vasquez commented on her newfound fame.
She told the network it is a "bit overwhelming."
Advertisement - story continues below
Vasquez explained, "But if I can be an inspiration to young women that want to go to law school and study and work hard, then it was all worth it."
Additionally, she said during an appearance on the "TODAY Show," it has "been overwhelming and surreal."
Earlier this month, the international law firm Brown Rudnick announced Vasquez had been elevated to partner, as IJR reported.
"I'm proud of the uniquely talented team I've had the privilege to lead, which exemplified teamwork and collaboration, and I look forward to continuing to represent Brown Rudnick's culture of excellence," Vasquez said in her statement.
Truth and Accuracy
We are committed to truth and accuracy in all of our journalism. Read our editorial standards.
Comment Down Below
Conversation