News
Boris Johnson Calls Biden a 'Breath of Fresh Air' After Trump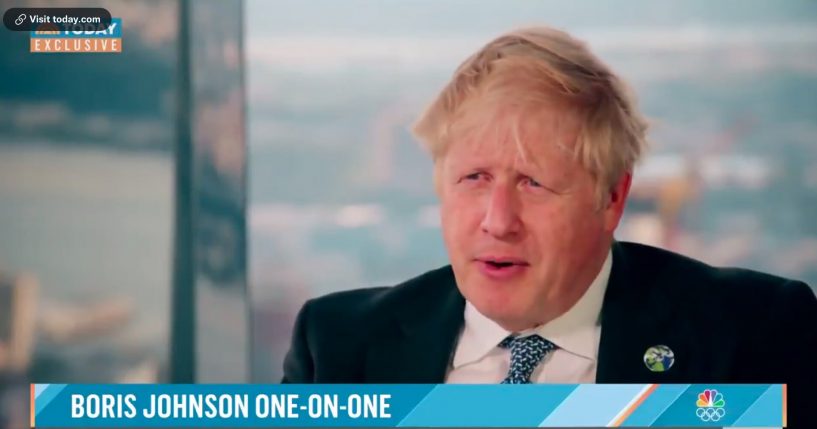 British Prime Minister Boris Johnson says he believes there are several issues where he can work with President Joe Biden, which makes him a "breath of fresh air" compared to former President Donald Trump.
During an interview with NBC's Savannah Guthrie that aired on Tuesday, Johnson said, "It is the job of any prime minister of the U.K. to have a good relationship with the President of the United States. The U.S.-U.K. relationship, we are doomed we are fated to get along, and that's quite right. That applies to Donald Trump. It applies to Joe Biden."
"But what I will say about Joe Biden, dealing with the new American president, yes it is a breath of fresh air in that there are some things on which we can really, really work together," he continued.
Advertisement - story continues below
Johnson went to explain, "Climate change, you know he's great on that. He wants to cut CO2. He wants to get to net zero by 2050. And he shares with me a basic view that you can do this without penalizing the economy."
Watch the video below:
Do you hold former President Trump responsible for inciting the Jan. 6 Capitol riot? –@SavannahGuthrie to British Prime Minister Boris Johnson pic.twitter.com/yvSR29nX5S

— TODAY (@TODAYshow) September 21, 2021
Advertisement - story continues below
At an earlier point in the interview, Johnson was asked whether he held Trump responsible for the Jan. 6 riot at the U.S. Capitol.
"I have no knowledge of what happened," Johnson said, adding, "Let me put it this way, my admiration for American democracy is undimmed by the whole thing."
Do you think Biden is a "breath of fresh air"?
Johnson also said he was not worried about Trump's stability or what he "might do" after his election loss such as a potential military action.
"To be frank, I didn't," he said.
Truth and Accuracy
We are committed to truth and accuracy in all of our journalism. Read our editorial standards.
Comment Down Below
Conversation