News
Kamala Harris Asked Whether Biden Is Going to Seek Reelection in 2024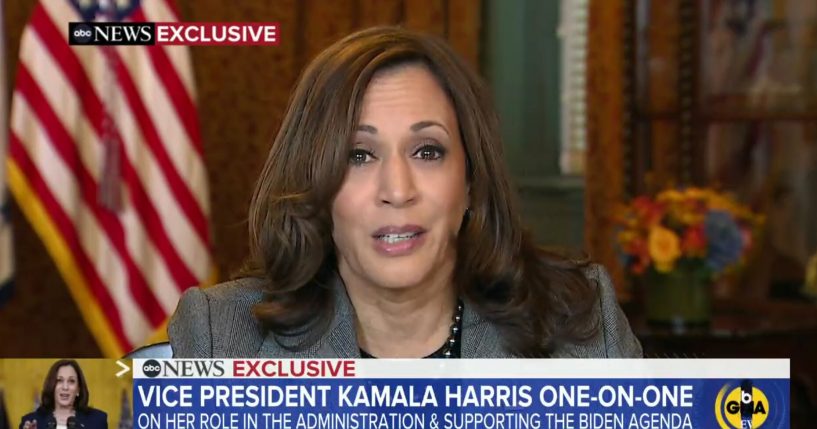 Vice President Kamala Harris shared whether President Joe Biden is thinking about his plans for 2024.
During an appearance on "Good Morning America" Thursday, host George Stephanopoulos asked Harris, "Has President Biden told you whether he's going to seek reelection in 2024?"
Harris responded, "President Biden started our day talking about, as we normally do, is bringing in members of our intelligence community to review the presidential daily brief and talk about classified information around threats to our national security and hot spots around the world."
Advertisement - story continues below
She continued, "After that, we had another couple of meetings and I went over to the Capitol because I am the president of the Senate and broke a tie vote there. And we are focused on implementation of the bipartisan infrastructure deal."
Stephanopoulos again asked Harris whether they are discussing plans for 2024.
She replied, "Absolutely not."
Asked whether Pres. Biden has told her whether he's going to seek reelection in 2024, VP Harris tells @GStephanopoulos they are focused on infrastructure, national security and other priorities.@GStephanopoulos: "So, you're not discussing 2024 yet?"@VP: "Absolutely not." pic.twitter.com/B29CW0Verm

— Good Morning America (@GMA) November 18, 2021
Advertisement - story continues below
Stephanopoulos also noted Harris has received criticism for her job performance from "close friends and allies like the lieutenant governor of California, Eleni Kounalakis."
He asked the vice president, "Do you share that frustration? What do you say to your friends who are frustrated?"
Should Biden seek reelection?
Harris explained, "This was a good week, and this week, when we got this Bipartisan Infrastructure Act passed and signed by the president, makes a statement about all of the hard work that has gone into it, month after month after month. I've traveled around the country, as has the president."
She added, "We have convened members of Congress, we have convened people around our nation, asking, 'what do you want?' And this is a response to what they want. And it's actually going to hit the ground in a way that is going to have direct impact on the American people. We're getting things done, and we're doing it together."
When asked if she feels "misused or underused," Harris said, "No. I don't. I'm very, very excited about the work that we have accomplished. But I am also absolutely, absolutely clear-eyed that there is a lot more to do, and we're gonna get it done."
Advertisement - story continues below
Her comments come after CNN published a report titled, "Exasperation and dysfunction: Inside Kamala Harris' frustrating start as vice president."
Some in the Biden administration defended Harris, including White House Press Secretary Jen Psaki and White House Chief of Staff Ron Klain, as IJR reported.
Truth and Accuracy
We are committed to truth and accuracy in all of our journalism. Read our editorial standards.
Comment Down Below
Conversation