News
Kemp Calls Braves, Bulldogs Championships 'Poetic Justice' After Outcry Over Voting Law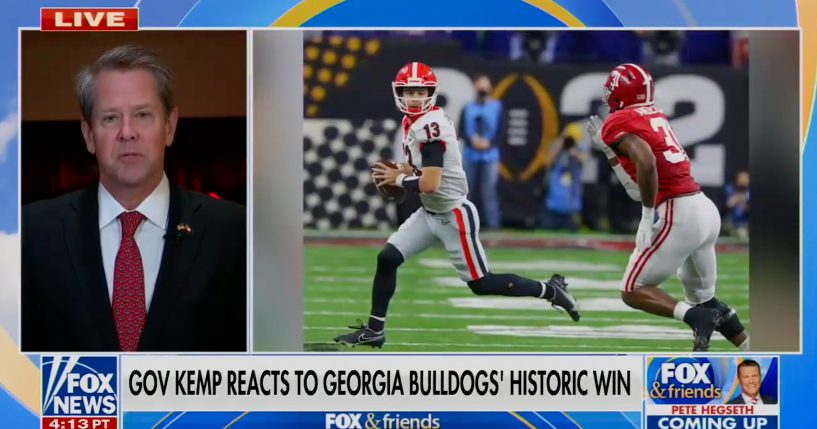 Georgia Gov. Brian Kemp (R) is taking a certain pleasure in victories by Georgia sports teams after the state faced boycotts and condemnation over its controversial voting law.
"When we talk about really Stacey Abrams' and President Biden's pressure to get the Major League Baseball All-Star Game moved back last summer, it was poetic justice when the Braves won the World Series. And nobody talked about our voting law, by the way, here or in Houston, Texas," Kemp said during an interview on "Fox & Friends" Wednesday.
He continued, "And that's the way we ended the year. And we started it great with the Bulldog national championship."
Advertisement - story continues below
Watch the video below:
Gov. Brian Kemp (R-GA) says Atlanta Braves & Georgia Bulldogs championships were "poetic justice" after the firestorm of criticism over the state's voter suppression law. pic.twitter.com/6aYcRsXHqm

— The Recount (@therecount) January 12, 2022
Last year, Georgia passed a controversial voting law that limits the time voters can request absentee ballots, implements strict voter ID requirements, limits mobile voting centers, requires early voting to be available weekdays from 9 a.m. to 5 p.m., and stipulates the early voting starts four weeks before an election.
Additionally, it prevents anyone who is not an election worker from offering voters waiting in line food or water within a 150-foot radius of a polling location.
Advertisement - story continues below
Dozens of CEOs issued statements criticizing the law
President Joe Biden decried new the law as "Jim Crow in the 21st Century," and said he would "strongly support" Major League Baseball (MLB) moving its All-Star Game out of Atlanta, Georgia.
The MLB did move its 2021 All-Star Game to Denver, Colorado, in response to the new law.
In November, the Atlanta Braves won the World Series, the first time since 1995, when they defeated the Houston Astro 7-0. The team clinched its fourth World Series title.
And this week, the Georgia Bulldogs won the College Football Playoff National Championship for the first time in 41 years, defeating the Alabama Crimson Tide.
Truth and Accuracy
We are committed to truth and accuracy in all of our journalism. Read our editorial standards.
Comment Down Below
Conversation