News
Sen. Kennedy Tells Biden He Needs to 'Try Harder Not to Suck'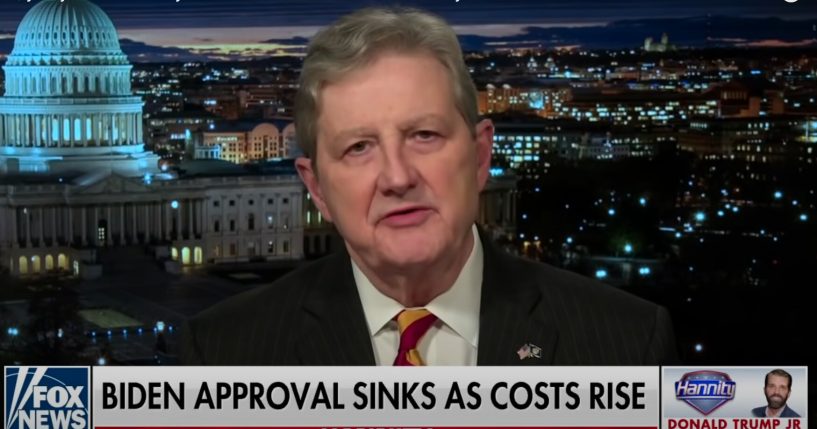 Sen. John Kennedy (R-La.) is delivering some advice to President Joe Biden.
During an appearance on Fox News' Sean Hannity's show on Wednesday, Kennedy said, "If you have a pulse and a desire for a better life, you know that President Biden is trouble. And therefore America's in trouble. Measure it any way you want."
"The debacle in Afghanistan which has emboldened Russia and China and Iran. The unbridled inflation, gas prices, open borders, crime. A Justice Department that thinks parents are dangerous domestic terrorists. A Treasury Department that wants access to the checking account of every American who has a job. No wonder the American people are so angry," he continued.
Advertisement - story continues below
Finally, he said, "Now, I say this with respect, with all the respect I can muster. But my advice to the president is this: Mr. President, you just got to try harder not to suck."
"And the best way to do that, in my opinion, is stop worrying so much about the woke-ers. You're never gonna make 'em happy. They hyperventilate on their yoga mats at the slightest provocation. You're never gonna make 'em happy. Stop worrying so much about the woke-ers and start worrying about America's workers," Kennedy added.
Watch the video below:
Advertisement - story continues below
Hannity responded, "You know something? I don't think he's capable of it, senator. I'm not even sure if he knows what day of the week it is. And I don't say that flippantly. I say it with sadness, and I think he agrees with the woke-ers."
The Louisiana senator's comments come as Biden's approval rating continues to slump. FiveThirtyEight's average of polls finds that 50.5% of Americans do not approve of his job performance while 43.8% approve.
Truth and Accuracy
We are committed to truth and accuracy in all of our journalism. Read our editorial standards.
Conversation