News
Kinzinger Mocks Trump for Claiming Credit for Youngkin's Victory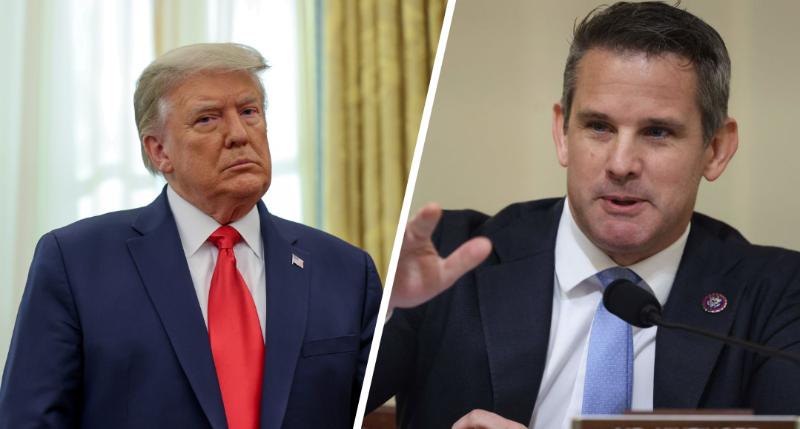 Rep. Adam Kinzinger (R-Ill.) is mocking former President Donald Trump for taking credit in Glenn Youngkin's (R) victory in Virginia's gubernatorial election.
In a tweet on Tuesday night, Kinzinger shared Trump's statement and wrote, "Sounds like someone who is scared he's been forgotten."
Sounds like someone who is scared he's been forgotten. pic.twitter.com/GHToczM6Mu

— Adam Kinzinger (@AdamKinzinger) November 3, 2021
Advertisement - story continues below
In a statement about Virginia's gubernatorial race, Trump said, "I would like to thank my BASE for coming out in force and voting for Glenn Youngkin. Without you, he would not have been close to winning."
He added, "The MAGA movement is bigger and stronger than ever before. Glenn will be a great governor. Thank you to the people of the Commonwealth of Virginia and, most particularly, to our incredible MAGA voters!"
And in a statement on Wednesday, Trump shared a quote from radio host John Fredericks, "If there were no Trump in this election, there would be no Glenn Youngkin."
On Tuesday, Youngkin defeated his Democratic opponent, Terry McAuliffe, and became the first Republican to win a statewide election since 2009, as IJR reported.
Advertisement - story continues below
In May, Trump endorsed Youngkin for governor, but ahead of the election, he tried to distance himself from the former president.
As CNN notes, McAuliffe tried to tie Youngkin to Trump during the election, but his efforts failed to mobilize Democratic voters in enough numbers to hold off his Republican challenger.
In his final rally on Monday, McAuliffe claimed Youngkin was "doing an event with Donald Trump here in Virginia."
However, Politico noted, "That was a lie. Trump wasn't in Virginia and he never campaigned with Youngkin, though he did make the case for the GOP candidate — 'fantastic guy!' — during a brief 'tele-rally.'"
"Thirty miles away, at the Loudoun County Fairgrounds, a crowd several times the size of McAuliffe's was waiting for Youngkin to take the stage. You got a hint of why McAuliffe was desperate to manufacture the fake Trump event. While McAuliffe has boundless energy — 'Sleep when you're dead!' he likes to say — his Monday audiences in Richmond and Fairfax, where we caught up with him, were modest and listless," it added.
Advertisement - story continues below
Kinzinger, who has been a vocal critic of Trump, announced on Friday that he would not seek reelection in 2022.
Truth and Accuracy
We are committed to truth and accuracy in all of our journalism. Read our editorial standards.
Comment Down Below
Conversation