News
Kinzinger Ramps Up Criticism of Trump: I Will Tell My Son He Was the 'Worst President'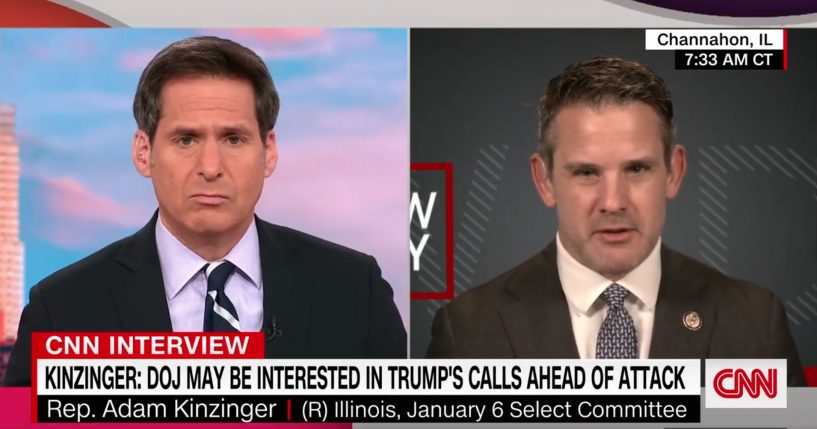 Rep. Adam Kinzinger (R-Ill.) is ramping up his criticism of former President Donald Trump.
During an appearance on CNN's "New Day" Monday, Kinzinger was asked what he will tell his son about Trump.
"I'm going to tell him [Trump] was the worst president the United States of America ever had. He was a liar, he was a charlatan. And he was a man with a more fragile ego than anybody I've ever met," Kinzinger responded.
Advertisement - story continues below
He continued, "The irony of it is he walks around like the tough guy. But he's the one that gets more offended and wounded and sad than anybody I know."
Watch the video below:
JUST NOW: I will tell him [Trump] was the worst president the USA ever had. He was a liar and a charlatan. And he was a man with a most fragile ego I ever met."

GOP Rep @AdamKinzinger on what he will tell his newborn son about Trump.pic.twitter.com/EFoiV44OPY

— John Berman (@JohnBerman) February 7, 2022
Kinzinger's comments come after he was censured by the Republican National Committee (RNC) over his participation in the House committee investigating the Jan. 6 riot at the U.S. Capitol.
Advertisement - story continues below
The committee claimed that Kinzinger and Rep. Liz Cheney (R-Wyo.) are engaged in the "persecution of ordinary citizens engaged in legitimate discourse" with their work on the panel.
In a statement last week, Kinzinger reacted to the censure resolution, "I've been a member of the Republican Party before Donald Trump entered the field. My values and core beliefs remain the same and have not wavered. I'm a conservative who believes in truth, freedom, and upholding the Constitution of the United States."
He also charged that Republicans "have chosen to censure two lifelong Members of their party for simply upholding their oaths of office. They've allowed conspiracies and toxic tribalism hinder their ability to see clear-eyed."
"My efforts will continue to be focused on standing up for the truth and working to fight the political matrix that's led us to this point," he added.
He has previously said that the committee is looking into whether Trump committed a crime by allowing the events of Jan. 6 to play out.
Advertisement - story continues below
"Nobody is above the law. And if the president knowingly allowed what happened on January 6 to happen, and in fact was giddy about it, and that violates a criminal statute, he needs to be held accountable for that," the Illinois Congressman told CNN in December.
Truth and Accuracy
We are committed to truth and accuracy in all of our journalism. Read our editorial standards.
Comment Down Below
Conversation