Kinzinger Will Vote To Impeach Trump: 'There Is No Doubt in My Mind' That He 'Broke His Oath of Office'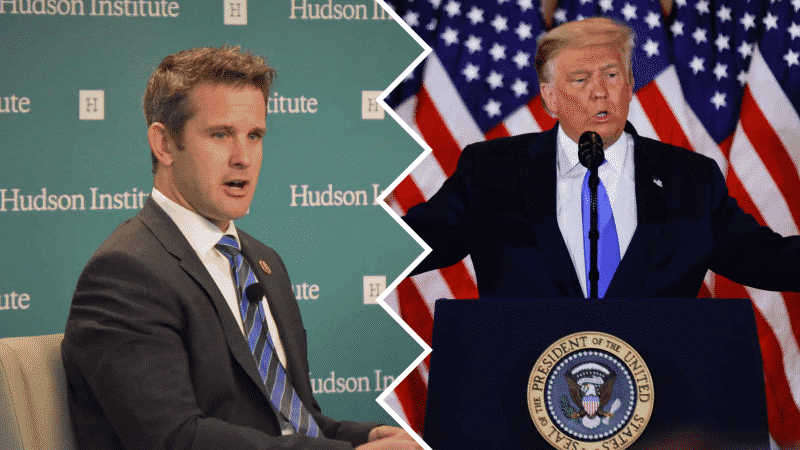 Rep. Adam Kinzinger (R-Ill.) is adding his name to the growing list of House Republicans who say they will vote to impeach President Donald Trump for allegedly inciting a mob to storm the U.S. Capitol.
In a statement on Tuesday, Kinzinger said, "Throughout my time in Congress, I've sought to do the right thing for the good of the people I represent and for the country as a whole. We are in unchartered waters here, and in a moment in history, we have not experienced in modern times."
"The President of the United States encouraged an angry mob to storm the United States Capitol to stop the counting of the electoral votes. This angry mob turn violent and caused destruction to our nation's symbol of democracy. This insurrection led to countless injuries and the death of several people, including to of our U.S. Capitol Police Officers," he continued.
"There is no doubt in my mind that the President of the United States broke his oath of office and incited this insurrection. He used his position in the Executive to attack the Legislative. So in assessing the articles of impeachment brought before the House, I must consider: if these actions—the Article II branch inciting a deadly insurrection against the Article I branch—are not worthy of impeachment, then what is an impeachable offense?"
Finally, he said, "I will vote in favor of impeachment."
Read the statement below:
January 12, 2021
Democrats unveiled an article of impeachment, accusing Trump of "incitement of insurrection" after a mob of pro-Trump rioters stormed the Capitol, which left five people dead.
Lawmakers have pointed remarks Trump delivered at a "Save America" rally before the rioters marched over to the Capitol. 
During his remarks, Trump suggested that his supporters "walk down to the Capitol" and "cheer on our brave senators and congressmen and women."
"We're probably not going to be cheering so much for some of them, because you'll never take back our country with weakness. You have to show strength, and you have to be strong," Trump said.
He added, "We will never give up. We will never concede. It doesn't happen. You don't concede when there's theft involved."
But, speaking to reporters on Tuesday, Trump defended his speech, as he said, "If you read my speech, and many people have done it… it's been analyzed… People thought that what I said was totally appropriate."
Kinzinger joined Reps. John Katko (R-N.Y.) and Liz Cheney (R-Wyo.) — the No. 3 House Republican — in voicing their support for impeachment.
The House is expected to vote on the article of impeachment on Wednesday.