News
Lauren Boebert Blasts Pelosi for Telling the Media They Could 'Do a Better Job' Selling Biden's Spending Plan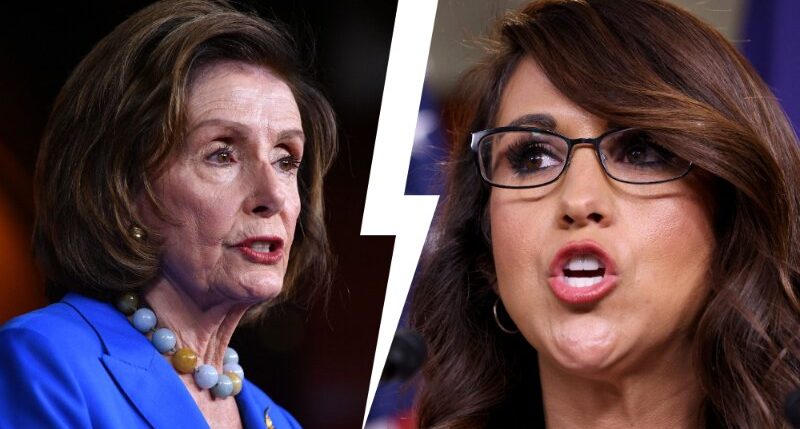 Rep. Lauren Boebert (R-Colo.) slammed House Speaker Nancy Pelosi (D-Calif.) for telling reporters they need to do a better job of selling President Joe Biden's spending plan.
During an appearance on Fox News Tuesday night, Boebert said she is waiting for Pelosi to "start recruiting timeshare salesmen to start passing her legislation."
She continued, "Can you believe the audacity she has telling the American people you may not even know what's in it, but you like it?"
Advertisement - story continues below
Boebert argued the real reason why the media is not talking about Biden's agenda is "because he's not talking about it," adding, "You know how many public appearances Sleepy Joe has had today to discuss the plan? Zero. He had zero appearances today and zero yesterday and zero the day before that."
Going over Biden's schedule for the day, Boebert explained, "At 8:45 a.m., he had a virtual conference and then a briefing at 10:15 a.m., and then he called it a lid. What about the spending spree?"
She went on to ask, "Does Fancy Nancy want the media to sell taxpayer dollars paying for the college education of millionaire families to Ivy League colleges?"
The Republican continued, "$200 million dollars to Nancy Pelosi's favorite park, the Presidio, amnesty to millions of illegal aliens. A more intrusive IRS scanning through your financial transactions. This bill is crap."
Advertisement - story continues below
Watch Boebert's comments below:
Fancy Nancy may need to hire timeshare salesmen to sell Biden's agenda. @JesseBWatters and I discussed this on @FoxNews Primetime! pic.twitter.com/l2G32e540X

— Lauren Boebert (@laurenboebert) October 13, 2021
Boebert discussed former President Donald Trump's "massive tax cuts" and claimed he "was basically living on the Hill" when he passed them.
She added, "And Biden is proving that what we've all seen, he isn't capable of leading. Sen. Sinema won't even return his calls. That's right. He's being ghosted by a senator."
Concluding her remarks, Boebert told host Jesse Watters, "If these bills pass, it's because weak Republicans caved to the Democrats."
Advertisement - story continues below
During Pelosi's press briefing on Tuesday, a reporter noted a CBS News poll that found a majority of Americans do not know the specifics of the spending bill, as IJR reported.
When asked if she needs to do a better job at messaging, Pelosi replied, "Well, I think you all could do a better job of selling it, to be very frank with you because every time I come here, I go through the list, Family Medical Leave, the issues that are in there."
The House speaker also suggested, "Whether they know it or not, they overwhelmingly support it."
Forbes reported earlier this month some House committees have approved portions of what is allowed in the final draft of the Build Back Better plan, including extending the child tax credit expansion, paid family and medical leave, lowering child care costs, lowering higher education costs, and closing the Medicaid coverage gap.
Truth and Accuracy
We are committed to truth and accuracy in all of our journalism. Read our editorial standards.
Conversation