Sen. Mike Lee: 'Enough Room in the Republican Tent' for Both Romney and Me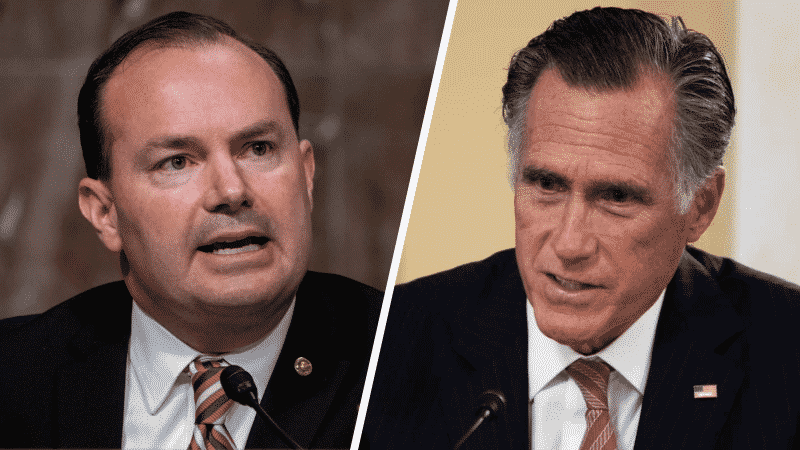 Even if Republican lawmakers come to different conclusions with their votes, "there is enough room in the Republican tent," Sen. Mike Lee (R-Utah) says.
Lee called on "more work" to be done in the GOP to "chart the proper course for our party" in a statement on Friday.
While noting Sen. Mitt Romney (R-Utah) and he "usually vote together" with "a majority of Senate Republicans," the two lawmakers voted differently on Feb. 13.
Lee voted to acquit former President Donald Trump on the charge of inciting an insurrection while Romney voted to convict Trump.
He recalled the experience to "cast a vote contrary to those cast by most (or even all) of our GOP colleagues," saying, "It can be liberating. It can be terrifying. It is often both."
Lee continued:
"In any event, the fact that Senator Romney and I sometimes disagree (either with each other or with most Senate Republicans, or both) is not itself cause for alarm. To the contrary, it shows that neither one of us blindly defers to anyone. […] He and I have adopted this approach not just because it works for us specifically (as two senators representing the same state), but also because it helps advance what unites us."
"While Senator Romney and I sometimes reach different conclusions, there is enough room in the Republican tent for both of us — just as there is room enough for all Republicans in a general election, regardless of how they voted in the primary," Lee added.
I didn't defend anyone voting to convict. Nor would I. My vote to acquit was correct.

— Mike Lee (@SenMikeLee) February 20, 2021
The lawmaker concluded his statement:
"The tent of the Republican Party is open to anyone and everyone willing to support our shared, liberty-minded objectives. With our eyes fixed on the future, we should be including and inviting our friends, neighbors, colleagues, and family members — and anyone else who might be discouraged or disaffected — by bringing more people into the tent."
Lee also responded to an article by The Salt Lake Tribune saying he was defending Romney's vote to convict. He said its "headline is not only misleading, but affirmatively deceptive" and the newspaper "will stop at nothing to undermine and create divisions within the Republican Party."
"I didn't defend anyone voting to convict. Nor would I. My vote to acquit was correct," he added.
Romney defended his vote to convict Trump in a statement on Thursday and said, "President Biden won the election through the legitimate vote of the American people. The division in America will only begin to heal in the light of this truth, a truth which must now be affirmed by each of us in this chamber."
Trump was acquitted by the Senate on Feb. 13 with a 57-43 vote. Seven Republican senators voted with Democrats to convict, but they fell short of the 67 votes needed to convict the former president.