News
Letitia James Considering Creating Law to Give Private Citizens the Power to Enforce an Assault Weapons Ban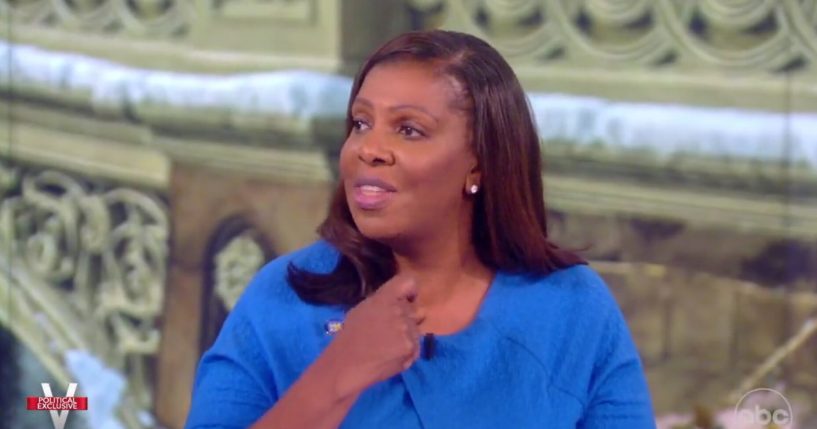 New York Attorney General Letitia James (D) says she told her team they "need to follow" California Gov. Gavin Newsom's (D) lead to create a law empowering private citizens to enforce a ban on assault weapons.
During an appearance on "The View" Tuesday, co-host Sara Haines noted the Supreme Court refused to block the Texas law that allows citizens to sue abortion providers.
She explained Newsom wants to "take that law and flip it and allow citizens in his state to sue weapon and ghost gun providers."
Advertisement - story continues below
Haines asked James, "Would you do something like this? Is it an effective legal strategy?"
James replied, "The answer is yes. When I heard about that, I said to my team, 'We need to follow his lead.' And the reason why that is is because gun manufacturers and gun distributors in this country are immunized."
She continued, "No liability whatsoever. They're the only industry that is protected in this country, and given the carnage and given the fact that this is the 9th anniversary of Sandy Hook, I am sick and tired of prayers and individuals whose hearts go out to all of those who have lost lives."
James explained the issue allows "private citizens…to get around, again, this immunization, the fact that they have been immunized and the fact that we don't hold them liable."
Advertisement - story continues below
She added, "We are reviewing it. We are talking to California, and so this is a first. Yes, the office of Attorney General Letitia James is looking at that model, and I congratulate Governor Newsom."
Watch her comments below:
Is it an effective legal strategy?
New York Attorney General @TishJames tells #TheView she plans to follow California Gov. Gavin Newsom's lead to create a law that empowers private citizens to enforce an assault weapons ban: "What we need to do is hold these gun manufacturers and these gun distributors liable." pic.twitter.com/1rurfhTT17

— The View (@TheView) December 14, 2021
Newsom said in a statement he was "outraged" by the Supreme Court's decision on the Texas law, adding, "But if states can now shield their laws from review by the federal courts that compare assault weapons to Swiss Army knives, then California will use that authority to protect people's lives, where Texas used it to put women in harm's way."
Newsom said his office would work with the state legislature and attorney general to pass the law, as Fox News noted.
Advertisement - story continues below
"If the most efficient way to keep these devastating weapons off our streets is to add the threat of private lawsuits, we should do just that," he said.
President Joe Biden marked nine years since the mass shooting at Sandy Hook Elementary School by calling for stricter gun laws.
"Twenty precious first graders, six heroic educators, a lone gunman. In an unconscionable act of violence, everything changed that morning for you, and the nation was shocked," Biden said.
He added, "We came close to legislation, but we came up short."
Advertisement - story continues below
The president argued it is "still frustrating now for you and me and so many others in Parkland, Florida; and Oxford, Michigan; and communities across the country — these horrific shootings make national headlines and embarrass us as a nation."
Biden stressed that the country owes "all of these families more than our prayers. We owe them action."
Truth and Accuracy
We are committed to truth and accuracy in all of our journalism. Read our editorial standards.
Comment Down Below
Conversation