News
Lightning Player Laughs After Biden's NHL Commissioner Gaffe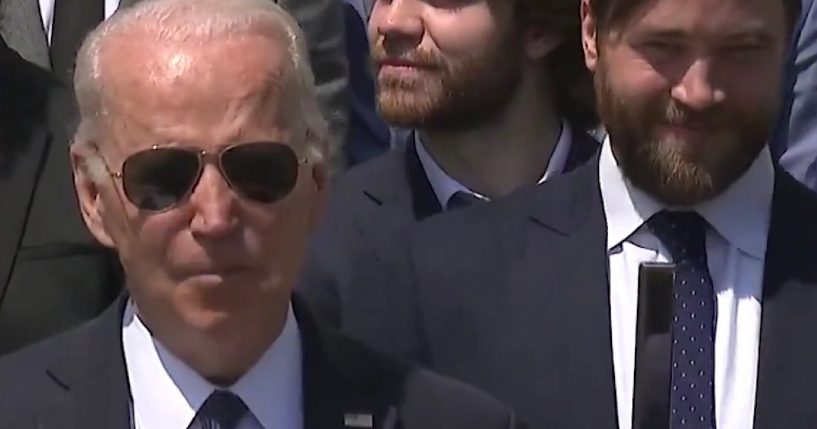 A Tampa Bay Lightning player appeared to be laughing after President Joe Biden fumbled NHL Commissioner Gary Bettman's name.
During his speech honoring the 2021 Stanley Cup winners, Biden said, "I want to thank Commissioner Gary Batman for being here as well."
Lightning star defenseman Victor Hedman appeared to laugh and turned his face away from the camera.
Advertisement - story continues below
Check out the video below:
Joe Biden calls NHL Commisioner Gary Bettman "Gary Batman" and one of the players on the Lightning standing behind him starts cracking up.
pic.twitter.com/KHUZrs8Mux

— Greg Price (@greg_price11) April 25, 2022
"At the risk of stating the obvious here, it's a pretty good time to be a sports fan in Tampa," Biden said.
He added, "I don't know what the hell you have in the water there."
Advertisement - story continues below
The president continued, "The Buccaneers won the Super Bowl, the Rays won the pennant, and these guys behind me became back-to-back Stanley Cup champions."
The Associated Press noted the Lightning won two COVID-19 pandemic championships.
On Monday, Biden mentioned his wife's attendance at a vaccination event at the Lightning's home arena in 2021.
"I'm not saying that the first lady being there at your arena during the playoffs is why you won," Biden said.
He added, "But just saying that she was there during the election season, as well. She seems to show up when people win. Just something to think about."
Advertisement - story continues below
According to the outlet, the team made a third trip to the nation's capital in eight months just for this occasion after already taking two trips to visit the Washington Capitals.
"Pretty much everybody was on board, and everybody that could make it — former players and stuff — they all tried to make it here," alternate captain Ryan McDonagh said.
He continued, "It's just a great tradition that we have: You become part of a championship team, you get to go to the White House and meet the president."
The visit marked the first time the organization visited a sitting president in the White House, as the outlet pointed out.
Advertisement - story continues below
Captain of the team, Steven Stamkos, explained, "It was a long time in the making," adding, "We weren't sure if we were going to get this opportunity, but it was certainly worth the wait."
Truth and Accuracy
We are committed to truth and accuracy in all of our journalism. Read our editorial standards.
Comment Down Below
Conversation