Graham Reacts To Biden Calling Him a 'Personal Disappointment' Not Recognizing His Election Win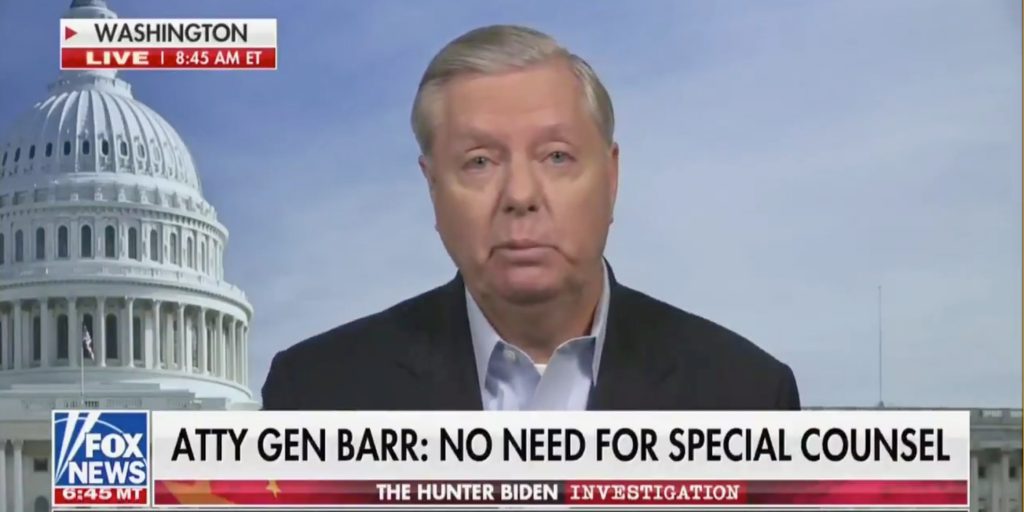 Sen. Lindsey Graham (R-S.C.) has been a loyal ally of President Donald Trump, a political position that has appeared to cause some damage to his long friendship with President-elect Joe Biden.
The South Carolina lawmaker is among the shrinking group of Republicans who refuse to publicly recognize Biden's election victory.
Asked about Graham's refusal, Biden recently told Stephen Colbert, "Lindsey's been a personal disappointment because I was a personal friend of his."
During a Tuesday interview on "Fox & Friends," Graham was asked about Biden's remark.
He said, "I like Joe Biden, I like Jill [Biden]. This is not easy. Hunter Biden's had all kind of problems. But I can promise you that what I'm asking for needs to be done."
See Graham's comments below:
Sen. Lindsey Graham (R-SC) responds to Joe Biden calling him a "personal disappointment" and an "embarrassment."

Graham's answer makes zero sense, but watching his face when Brian Kilmeade calls him those things is worth a quick watch. pic.twitter.com/0ytuZDIyHp

— The Recount (@therecount) December 22, 2020
Though he has been a staunch supporter of Trump, Graham has declined to directly criticize Joe Biden, his longtime Senate colleague. Over the summer, he said, "My differences with Joe Biden are political and they're real, they're wide and they're deep. But he's a fine man."
Graham has called for outgoing Attorney General William Barr to appoint a special counsel to investigate Hunter Biden, who has said that his taxes are the subject of a federal investigation.
During his Tuesday "Fox & Friends" interview, Graham said, "I think we need a special counsel because I worry that what Hunter Biden did may have compromised our ability to effectively wage foreign policy."
But Barr said this week that he will not appoint a special counsel to investigate Hunter Biden.
Graham also cast skepticism on the inevitable future of a Biden presidency, prefacing one response by saying, "President Biden, if he gets to be president."
"President Biden, if he gets to be president" — Lindsey Graham is still holding out hope that Trump might overturn the election and serve a second term pic.twitter.com/LSOhgJkNXO

— Aaron Rupar (@atrupar) December 22, 2020
The South Carolina senator has been pushing Trump to refuse to concede the election for over a month. In early November, Graham said, "We will work with Biden if he wins, but Trump has not lost. Do not concede, Mr. President. Fight hard."
Graham has also urged Trump to mount a 2024 Oval Office run, previously saying in early November, "I would encourage President Trump, if after all this he does fall short or he just can't quite get there to not let this movement die. To consider running again."