News
Watch: Man Waves 'Let's Go Brandon' Flag in Background of MSNBC Live Shot in NYC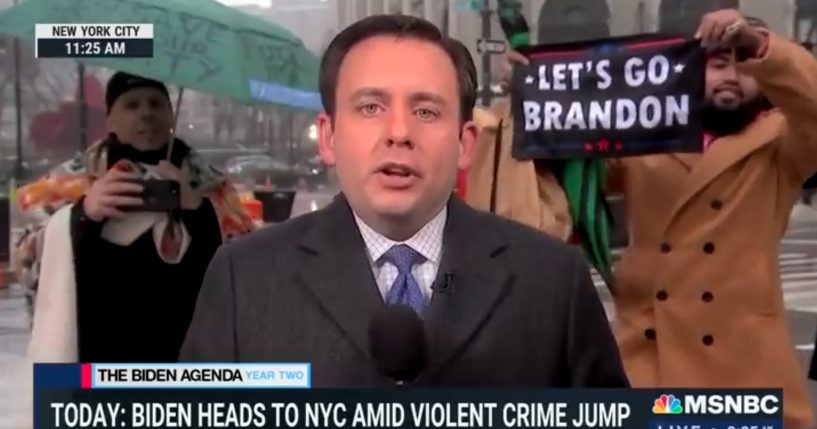 Viewers of MSNBC were subjected to subtle protest of President Joe Biden as a man displayed a popular protest catchphrase on it.
Ahead of Biden's visit to New York City, NBC's Mike Memoli shared details about the president's planned remarks to address the surge in crime.
However, an apparent anti-Biden protester found the TV crew and was eager to display his views about the commander-in-chief.
Advertisement - story continues below
As Memoli spoke, a man unfurled and proudly displayed a small flag that read, "Let's Go Brandon."
Watch the video below:
Shoutout to this absolute legend with a "Let's Go Brandon" flag in the background of MSNBC. pic.twitter.com/jIApfuOSYg

— Townhall.com (@townhallcom) February 3, 2022
The phrase "Let's go, Brandon," has been used as a euphemism for "f*ck Joe Biden," which has been used by spectators of sporting events.
Advertisement - story continues below
The alternative phrase began to gain momentum last year after an NBC reporter interviewed NASCAR race winner Brandon Brown. The crowd could be heard chanting, "F*ck Joe Biden."
However, the reporter said, "As you can hear the chants from the crowd, 'Let's go, Brandon!"
The phase also made its way into the halls of Congress.
As Rep. Bill Posey (R-Fla.) wrapped up a floor speech in October, he said Americans were "understandably frustrated" with Biden's proposed $3.5 trillion spending package.
"Actually, they're very angry. And they're not going to sit back and take it much longer," he added.
Advertisement - story continues below
Finally, Posey said, "Let's go, Brandon!"
As Politico noted after Posey's speech, "The House floor is typically policed quite closely for breaches in rhetoric. Talking about the president in any vulgar way would, of course, attract attention — but this phrase seemed to fly under the radar.
"There's a song climbing the charts. There's merch. But to see it land on the House floor so quickly is a sign of how fast ideas travel in 2021, and the increasing use of memes in politics," the outlet added.
Florida Gov. Ron DeSantis (R-Fla.) used the phrase to take shots at Biden as well.
Advertisement - story continues below
In November, he referenced the anti-Biden catchphrase, "Let's go Brandon," when he dubbed the Biden administration the "Brandon Administration."
He also signed legislation in Brandon, Florida, that required businesses to allow employees to opt out of COVID-19 vaccine mandates.
Truth and Accuracy
We are committed to truth and accuracy in all of our journalism. Read our editorial standards.
Comment Down Below
Conversation