Manchin: 'I Don't Know How' Cruz, Hawley Can 'Live With Themselves' After Electoral Objection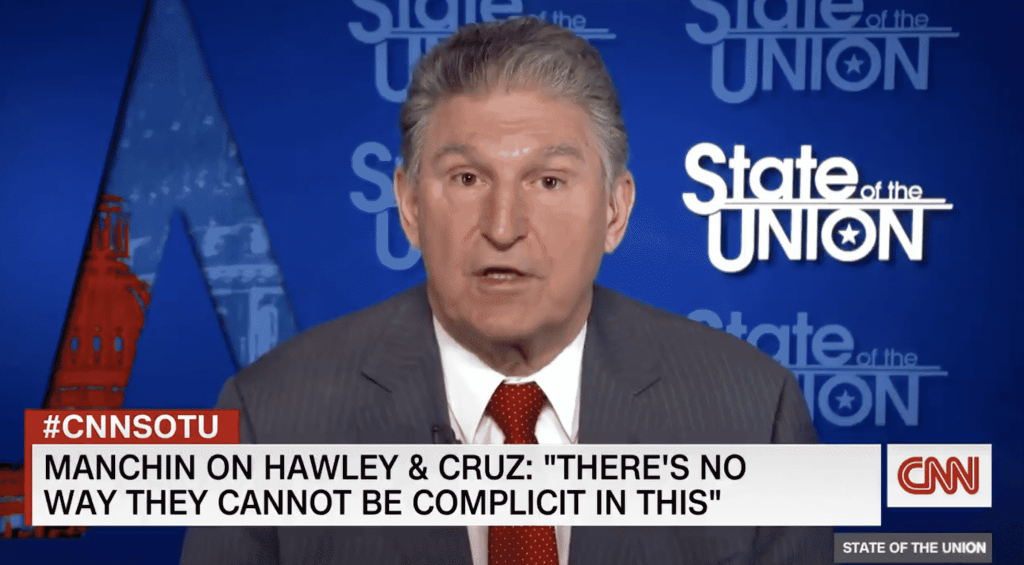 Sen. Joe Manchin (D-W.Va.) is criticizing Sen. Ted Cruz (R-Texas) and Sen. Josh Hawley (R-Mo.) for pushing false claims of voter fraud despite a day of violence at the U.S. Capitol.
During his appearance on CNN's "State of the Union," Jake Tapper asked Manchin if he believes Cruz and Hawley should resign.
"What I'm telling you is we must stop the lies. The lies have taken us down this path where we are today and it's absolutely very dangerous for our country," Manchin said.
He added, "Whether they should resign or not, I don't know how they can live with themselves knowing that people have died because of their words and actions."
Watch his comments below:
"I don't know how they can live with themselves," Sen. Joe Manchin says on GOP Senate colleagues Josh Hawley and Ted Cruz objecting to electoral results despite the US Capitol siege. Manchin says he asked Hawley to change his position when they were in the lockdown room. #CNNSOTU pic.twitter.com/a2PFtgYxmz

— State of the Union (@CNNSotu) January 10, 2021
He expressed his admiration for lawmakers who, after the riots at the Capitol, refused to object to the results.
"Those were people that basically changed their mind because they put their country and their loyalty and their oath to the Constitution above their own political preferences and their own political ambitions," Manchin said.
He noted Sen. Kelly Loeffler (R-Ga.) had intentions to object to the results, but then changed her mind after angry Trump supporters stormed the Capitol.
"That shows you that, first of all, there are people with credibility. There are people with loyalty and people that basically will stand up and do the right thing," Manchin continued.
He argued Cruz and Hawley have "blood on their conscience" for supporting false election claims.
Cruz received harsh criticism from Sen. Lindsey Graham (R-S.C.) for his efforts to block the certification of the electoral vote, as IJR previously reported.
"Proposing a commission at this late date – which has zero chance of becoming reality – is not effectively fighting for President Trump," Graham tweeted last week. "It appears to be more of a political dodge than an effective remedy."
Hawley's home-state paper wrote something similar to Manchin's comments, as IJR previously reported.
"No one other than President Donald Trump himself is more responsible for Wednesday's coup attempt at the U.S. Capitol than one Joshua David Hawley," The Kansas City Star editorial board wrote on Wednesday.
The editorial board titled the piece, "Assault on democracy: Sen. Josh Hawley has blood on his hands in Capitol coup attempt."