News
Manchin Indicates He Would Support Biden's Supreme Court Pick Even if They Are 'More Liberal' Than He Is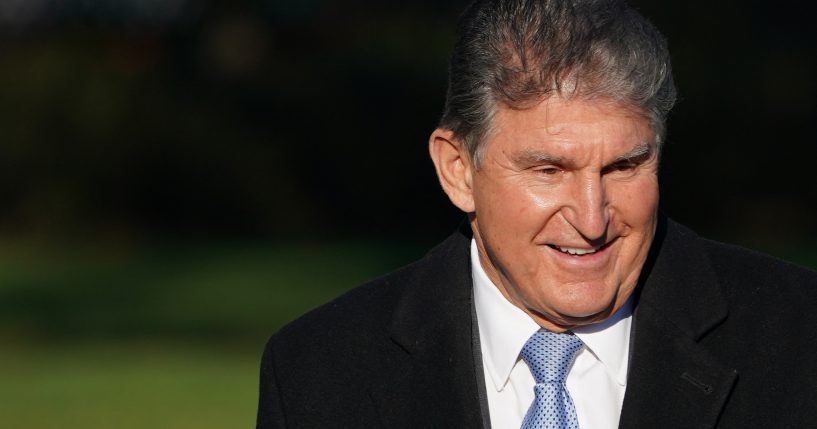 Sen. Joe Manchin (D-W.Va.) opened up about whether he would support President Joe Biden's nominee to the Supreme Court.
During an interview with West Virginia's MetroNews, host Hoppy Kercheval noted Biden's pick will likely be "more liberal" than Manchin.
"Would that be enough for you to cast a 'no' vote? Or if the person is qualified, even if they differ from you politically, if they are qualified, would you support the nomination?" Kercheval asked.
Advertisement - story continues below
He replied, "What you want is someone, forget the philosophical beliefs they have, is basically how they have dispersed justice, their record, have they been outspoken? Have they been fair? Things of that sort."
Kercheval then asked Manchin, "So it would not bother you…if the nominee was more liberal or far more liberal than you?"
Manchin responded, "It's not too hard to get more liberal than me. So it would not bother me having a person who is sound in their thought process and has been sound in their disbursement of justice and the rule of law."
The senator mentioned how, as governor, he put "a lot of robes on judges, and they are much different than me ideologically, philosophically. But they do a good job, and I knew they would uphold the law."
Advertisement - story continues below
Justice Stephen Breyer will formally announce his retirement from the Supreme Court. Manchin supported 2 of the 3 nominees from Donald Trump. Manchin talks about whether or not he will support President Biden's nominee to @HoppyKercheval. WATCH: https://t.co/yCFQ3nm85Y pic.twitter.com/HHp8Mrom7Y

— MetroNews (@WVMetroNews) January 27, 2022
Manchin suggested whoever Biden nominates will "have experience and we'll be able to judge them off of that. But as far as just the philosophical beliefs, no, that will not prohibit me from supporting somebody."
On Thursday, Biden announced Justice Stephen Breyer's plans to retire, as IJR reported.
"I will select a nominee worthy of Justice Breyer's legacy of excellence and decency. While I've been studying candidates' backgrounds and writings, I've made no decision except one: The person I will nominate will be someone with extraordinary qualifications, character, experience, and integrity," the president said.
He added, "That person will be the first Black woman ever nominated to the United States Supreme Court. It's long overdue, in my opinion. I made that commitment during the campaign for president, and I will keep that commitment."
Truth and Accuracy
We are committed to truth and accuracy in all of our journalism. Read our editorial standards.
Comment Down Below
Conversation