News
Manchin 'Very Interested' in How $3.5 Trillion Budget Agreement Is Going To Be Paid For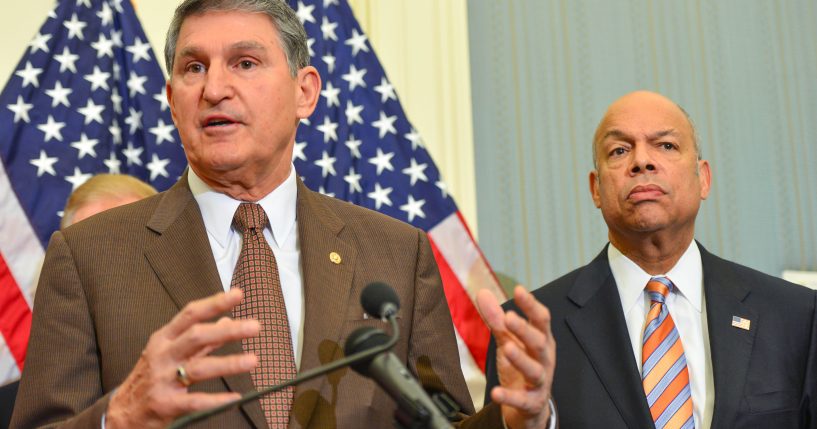 Sen. Joe Manchin (D-W. Va.) signaled he is "open to looking at" the $3.5 trillion budget deal reached by Senate Democrats. Still, he is "very interested" in how it is going to be paid for.
"I know my Democratic colleagues on the Budget Committee have worked hard, and I look forward to reviewing their agreement," Manchin said in a statement on Wednesday.
He added, "I'm also very interested in how this proposal is paid for and how it enables us to remain globally competitive. I will reserve any final judgement until I've had the opportunity to thoroughly evaluate the proposal."
Advertisement - story continues below
My statement on the Senate Budget Committee's $3.5 trillion infrastructure package: pic.twitter.com/qstcR85flP

— Senator Joe Manchin (@Sen_JoeManchin) July 14, 2021
The Hill points out the plan "would be entirely paid for with yet to be specified tax measures."
Manchin told reporters on Tuesday he is "open to looking at everything they provide. OK? They're going to have to provide all the information that's going to be needed."
He continued, "They worked hard, they should have a proposal."
Advertisement - story continues below
The senator also said he is looking forward to listening to President Joe Biden, who will meet with Democrats to discuss the $3.5 trillion budget reconciliation plan and a $1.2 trillion bipartisan infrastructure proposal, as The Hill reports.
"The president is going to come today and explain. We'll listen to that, we'll look at the proposal, look at the priorities they have for our country and then basically look at how we've going to pay for it," Manchin said.
The budget agreement aims to address "human" infrastructure, as IJR reported.
When this budget plan and a separate bipartisan infrastructure proposal are combined, the price tag will come to $4.1 trillion.
"We are very proud of this plan. We know we have a long road to go. We're going to get this done for the sake of making average Americans' lives a whole lot better," Schumer said.
Advertisement - story continues below
He also took to Twitter, claiming the plan would make "the biggest investment in the middle class in decades" to "create jobs, rebuild infrastructure, act on climate, expand Medicare to vision, dental, and hearing, and more."
Truth and Accuracy
We are committed to truth and accuracy in all of our journalism. Read our editorial standards.
Conversation