Manchin Suggests Next COVID Relief Bill May Have Smaller Direct Payments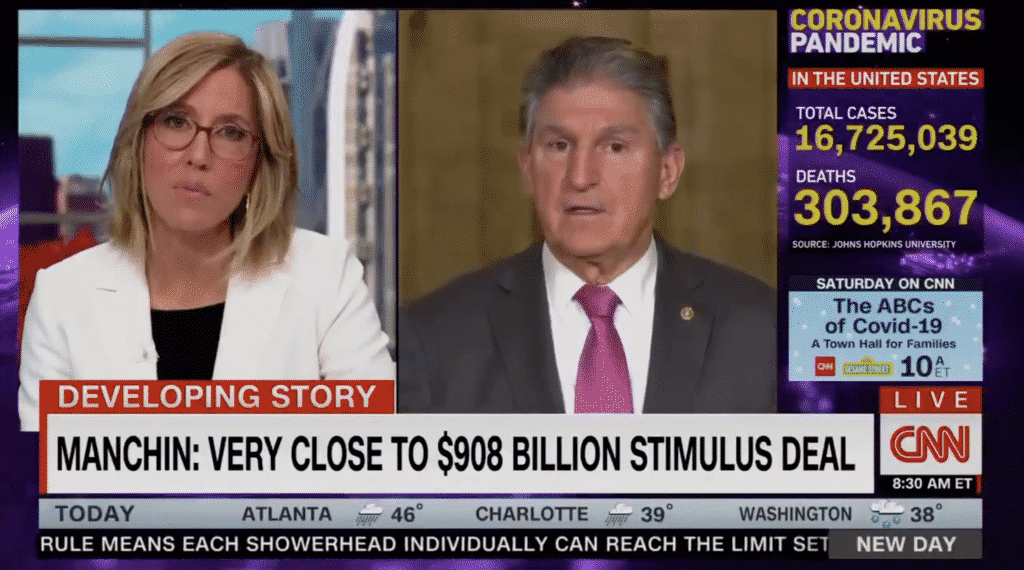 Congressional leaders are trying to hammer out a new COVID-19 relief bill before the end of the year. However, negotiations appeared to run into difficulties as Democrats are pushing for funding for state and local governments and Republicans are pushing for liability protections for business.
Sen. Joe Manchin (D-W.Va.) says the new relief bill may have direct payments, but he added that they might be smaller than the $1,200 Americans received in the spring. 
While addressing the negotiations over the bill during an appearance on CNN on Wednesday, Manchin said, "What they actually come up with, we'll see. I'm understanding that it could be maybe some direct payments in lieu of state and local."
When asked how much those checks could be worth, he said, "I know it wouldn't be more than $1,200, but I think it'll be in the probably $500-600 range."
Watch the video below:
Sen. Joe Manchin (D-WV), who is leading a bipartisan relief bill effort, says the deal within reach may include direct payments:

"I know it wouldn't be more than $1,200, but I think it'll be in the probably $500-600 range." pic.twitter.com/Fb6XEPKwe8

— The Recount (@therecount) December 16, 2020
The Washington Post reported that Congressional leaders are trying to include another round of stimulus payments in an aid bill. The Post also reports that negotiators seemed willing to drop provisions that would provide aid to local governments.
As the lastest push for a relief bill kicked off earlier this month, a bipartisan group of senators announced a $908 billion relief bill. And Senate Majority Leader Mitch McConnell was pushing for a smaller $500 billion relief bill. 
Neither proposal included another round of direct payments similar to the $1,200 checks that were sent out under the first CARES Act passed in March.
Sens. Bernie Sanders (I-Vt.) and Elizabeth Warren (D-Mass.) penned a letter to their colleagues urging them to pass a relief bill that would include another round of direct payments.
Sen. Josh Hawley (R-Mo.) also unveiled stand-alone legislation that would send $1,200 checks to Americans if the next relief bill did not include such a provision.
And Treasury Secretary Steven Mnuchin proposed giving Americans $600 checks. However, that would be offset by lowering the enhanced unemployment benefits.
The Post reports that the bill could include a stimulus check between $600 and 700. Sen. John Thune (R-S.D.) said it is also expected to include a provision that would provide an extra $300 per week in enhanced unemployment benefits.