News
Manchin Video Goes Viral — Covers Face While Schumer Delivers Fiery Remarks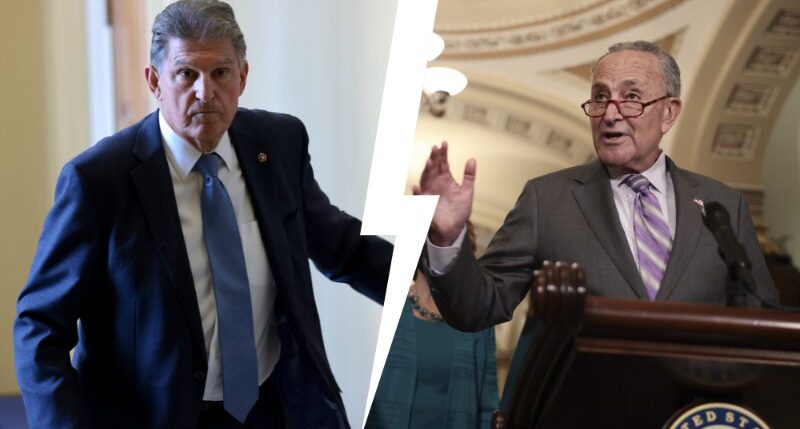 Sen. Joe Manchin (D-W.Va.) could not sit through Senate Majority Leader Chuck Schumer's (D-N.Y.) speech on the debt ceiling.
The Senate voted on Thursday night to advance the debt ceiling increase. Eleven Republicans joined Democrats in passing the deal.
Following the vote, Schumer delivered remarks celebrating the victory while taking aim at Republicans.
Advertisement - story continues below
"Republicans played a dangerous and risky partisan game, and I am glad that their brinksmanship did not work," Schumer said.
He argued Republicans need to "recognize in the future that they should approach fixing the debt limit in a bipartisan way," adding, "We hope Republicans will join in enacting a long-term solution to the debt limit in December. We're ready to work with them."
Taking a swipe at Senate Minority Leader Mitch McConnell (R-Ky.) and other Republicans, Schumer claimed they insisted "they wanted a solution to the debt ceiling, but said Democrats must raise it alone by going through a drawn-out, convoluted, and risky reconciliation process."
Manchin visibly grew frustrated with his remarks as he placed his face in his hands. Schumer went on to express his appreciation for his Democratic colleagues. As Schumer continued to hit back at McConnell, Manchin stood up and left.
Advertisement - story continues below
Watch the video below:
Manchin was not digging Schumer's victory lap. Gets up and leaves. pic.twitter.com/Yd3z4zUC11

— SCUBA MIKE🤿 (@mescubamike) October 8, 2021
After walking out, Manchin expressed his frustration with Schumer to reporters. He told them, "I didn't think it was appropriate at this time."
He continued, "I'm sure Chuck's frustration was up, but that was not a way of taking it out." 
Suggesting "civility is gone," Manchin added, "I'm not going to be part of getting rid of it. I'm going to try and bring it back."
Advertisement - story continues below
Check out more of his remarks below:
Manchin tells us he didn't like Schumer's speech after the vote to break a filibuster on the debt ceiling. "I didn't think it was appropriate at this time," he said, arguing that "we need to de-weaponize" and stop "playing politics … That was not a way to take (frustration) out" pic.twitter.com/TsGDsMNAqK

— Manu Raju (@mkraju) October 8, 2021
Senate GOP Whip John Thune (S.D.) also spoke to Schumer about his remarks.
"I thought it was totally out of line. I just thought it was an incredibly partisan speech after we had just helped him solve a problem. … I let him have it," Thune said.
Advertisement - story continues below
Thune was one of the 11 Republicans who voted with Democrats to advance the increase.  
Truth and Accuracy
We are committed to truth and accuracy in all of our journalism. Read our editorial standards.
Conversation