News
Marjorie Taylor Greene Calls AOC 'Little Communist' — Dem Rep Reacts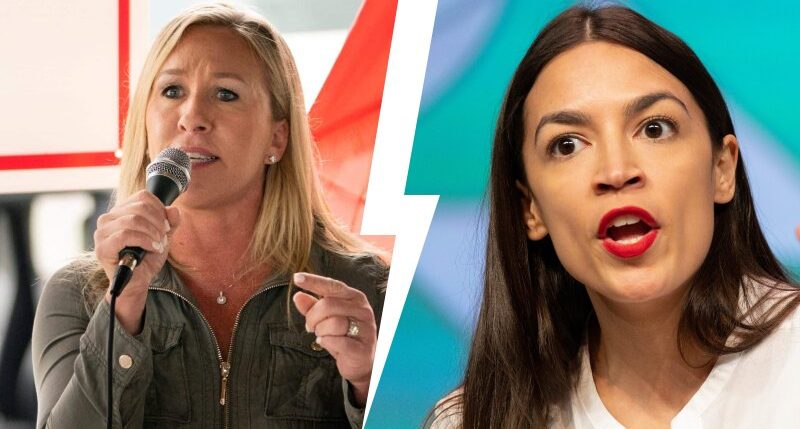 Rep. Alexandria Ocasio-Cortez (D-N.Y.) and Rep. Marjorie Taylor Greene (R-Ga.) traded jabs after the Georgia lawmaker called her a "little communist."
During a rally for former President Donald Trump in Ohio on Saturday, Greene called Ocasio-Cortez the "little communist from New York City." She also said locking her up "would be a good idea."
Greene continued, "She's not an American. She really doesn't embrace our American ways."
Advertisement - story continues below
Marjorie Taylor Greene calls AOC a little communist and says locking her up is a good idea. She also says AOC isn't an American pic.twitter.com/aCT1JTtC69

— Acyn (@Acyn) June 26, 2021
Ocasio-Cortez responded to Greene's comments on Twitter, saying, "First of all, I'm taller than her."
First of all, I'm taller than her https://t.co/H6rXG66GJk

— Alexandria Ocasio-Cortez (@AOC) June 27, 2021
Greene fired back, "But you're still a commie."
Advertisement - story continues below
But you're still a commie. https://t.co/Vj5kDSDwhO

— Marjorie Taylor Greene 🇺🇸 (@mtgreenee) June 27, 2021
She previously accused Ocasio-Cortez of holding "radical socialist" beliefs, according to a report. Two reporters from The Washington Post said in May Greene shouted at Ocasio-Cortez, "You don't care about the American people. Why do you support terrorists and antifa?"
Ocasio-Cortez spokeswoman Lauren Hitt said in a statement, "Representative Greene tried to begin an argument with Congresswoman Ocasio-Cortez and when Rep. Ocasio-Cortez tried to walk away, Congresswoman Greene began screaming and called Rep. Ocasio-Cortez a terrorist sympathizer."
House Speaker Nancy Pelosi (D-Calif.) later said the Ethics Committee should look into Greene's "verbal assault" and "abuse" of Ocasio-Cortez.
"Actually, [Speaker Pelosi] the Ethics Commitee should look into [AOC] for putting Trump admin staff and supporters on lists to destroy their lives and prevent future employment," Greene responded.
Advertisement - story continues below
She continued, "She threatened the livelihoods of Americans for simply being Republicans. BTW, there was no screaming."
In April, Greene challenged Ocasio-Cortez to a debate on the Green New Deal.
"Since you sponsored the Green New Deal and have a degree in Economics, I'm sure you are more than qualified," Greene said.
She added, "A debate between AOC and I on the Green New Deal economic policy would be informative for the American People. They deserve to hear the two sides with pro's and cons."
Advertisement - story continues below
The House voted to strip Greene of her committee assignments in February following her controversial comments.
Truth and Accuracy
We are committed to truth and accuracy in all of our journalism. Read our editorial standards.
Conversation