News
Marjorie Taylor Greene Raises the Issue of Slavery While Discussing Electric Airplanes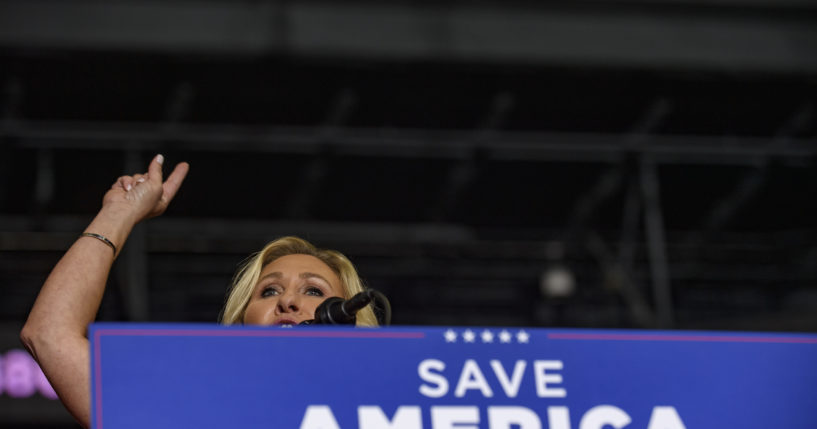 Rep. Marjorie Taylor Greene (R-Ga.) invoked slavery into her rant against electric airplanes.
During a Texas Youth Summit event over the weekend, Greene noted that Air Canada has ordered 30 electric airplanes.
"So we were joking around and talking: 'How is there an electric airplane, and what does that look like?'" Greene said.
Advertisement - story continues below
She added, "So we were just making fun and thinking about, remember back a long time ago, when you see movies and people in those slave ships, and they're down there, and they're rowing, and they're being whipped to row?"
Greene continued, "We were saying, 'How are they going to keep powering these electric airplanes?'"
She suggested it is like a "spin class in a tube, and they've got everybody riding spin cycles, and then those mean, nasty airline stewardess that forced you to wear masks all the time on the planes … are they going to be forcing you to keep spinning to keep the airplane in the air?"
In case you missed it:
Advertisement - story continues below
Marjorie Taylor Greene joked that electric airplanes would be powered like "slave ships" with passengers forced to spin on exercise bikes by a "mean, nasty airline stewardess" in order "to keep the airplane in the air." pic.twitter.com/FI8U6RV0YM

— PatriotTakes 🇺🇸 (@patriottakes) September 17, 2022
Michael Rousseau, Air Canada's president and CEO, said in a statement that the company "has taken a leadership position in the industry to address climate change."
He added, "The introduction into our fleet of the ES-30 electric regional aircraft from Heart Aerospace will be a step forward to our goal of net zero emissions by 2050."
The planes are expected to enter service in 2028.
According to Insider, "The plane is set to seat 30 passengers in a two-by-one configuration and fly up to 124 miles, or 200 kilometers, when in all-electric mode."
Advertisement - story continues below
The outlet explained that the "range can extend to 249 miles when the battery is supplemented by generators and 497 miles when the capacity is limited to 25 people," citing Air Canada.
Truth and Accuracy
We are committed to truth and accuracy in all of our journalism. Read our editorial standards.
Comment Down Below
Conversation