News
Marjorie Taylor Greene Has Lost Nearly a Third of Her Salary for Refusing to Wear a Mask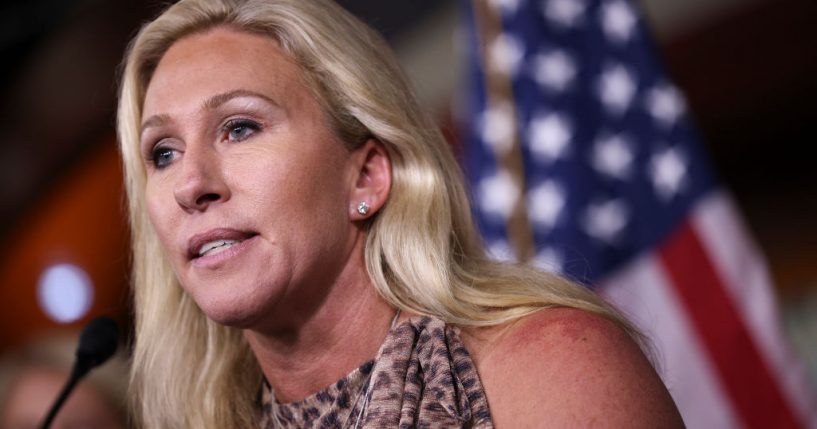 Rep. Marjorie Taylor Greene (R-Ga.) is losing a significant amount of her congressional salary over her refusal to wear a mask on the House floor.
Punchbowl News reported that Greene has "given up nearly a third of her congressional salary," adding, "She keeps getting hit with automatic fines."
The House Ethics Committee issued a statement Monday, detailing four instances of Greene's refusal to wear a mask.
Advertisement - story continues below
As The Hill notes, Green has been fined $50,000 since last week for her mask defiance. The fine will be deducted from her $174,000 salary.
For the first offense congress members are fined $500 and $2,500 for additional violations.
In a statement to NBC, Greene explained, "I will continue my stand on the House floor against authoritarian Democrat mandates, because I don't want the American people to stand alone."
Over the summer, Greene joined two other lawmakers in suing House Speaker Nancy Pelosi (D-Calif.) over the mask rule.
Advertisement - story continues below
She said they filed the lawsuit "because our rights have been violated and they violated the 27th Amendment by fining us for not wearing masks on the House floor."
Greene added, "And the reason why we're doing this is because people all over this country are being segregated and discriminated against with masks and vaccines. And it's very important for us as members of Congress to stand up against this abuse so that people back at home can do the same thing."
Should Greene be fined for refusing to wear a mask?
CNN reported Greene appealed at least one of the fines she received. Still, it was upheld. She is not the only lawmaker who has refused to wear a mask on the House floor.
Reps. Lauren Boebert (Colo.), Matt Gaetz (Fla.), Chip Roy (Texas), Andy Biggs (Ariz.), Mary Miller (Ill.) and Andrew Clyde (Ga.) have all refused to wear masks, according to The Hill.
Truth and Accuracy
We are committed to truth and accuracy in all of our journalism. Read our editorial standards.
Conversation