News
Maryland Governor on the Unvaccinated: 'Threatening the Freedoms of All the Rest of Us'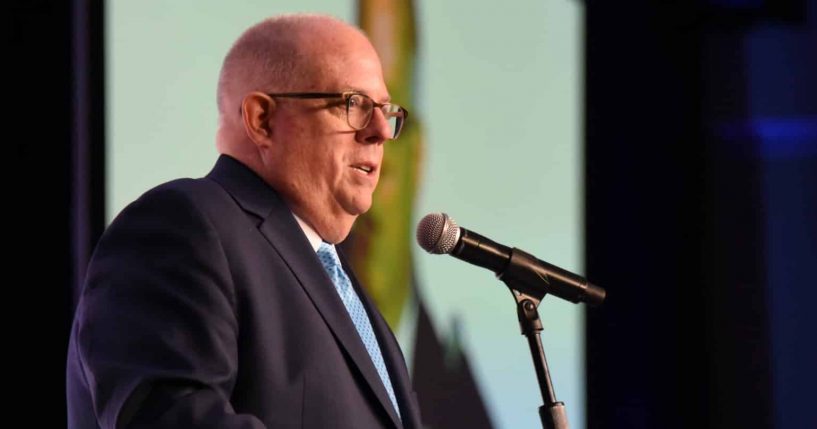 Maryland Gov. Larry Hogan (R) is accusing people who are not vaccinated against COVID-19 of "threatening the freedoms of all the rest of us."
During a briefing Thursday, Hogan announced Maryland state employees who work in congregate settings would be required to provide proof of vaccination against the virus effective September 1, as WBAL-TV reports.
He sent a direct message to those who are not vaccinated, saying, "I don't care what misinformation or conspiracy theories that you have heard. The plain and simple fact is that these vaccines are working."
Advertisement - story continues below
Hogan explained to those who are hesitant about the vaccine that "nearly every single person hospitalized or dying with COVID-19 in Maryland right now is unvaccinated."
He continued, "Those of you who refuse to get vaccinated at this point are willfully and unnecessarily putting yourself and others at risk of hospitalization and death. You are the ones threatening the freedoms of the rest of us, the freedom not to wear masks, to keep our businesses open, and to get our kids back in school. And tragically, it may only be a matter of time until you do get COVID-19."
Watch the briefing below:
Advertisement - story continues below
According to the U.S. Centers for Disease Control and Prevention, more than 3 million residents of Maryland have been fully vaccinated.
"We do not want any Marylanders or any more Americans to become one of these preventable stories. So, please, just get the damn vaccine. These vaccines are free, safe, they work, and they're widely available everywhere across our state," Hogan said. (00:11:25)
New York City became the first city to require proof of at least one dose of the vaccine for activities for workers and customers, including indoor dining, gyms, and performances, as The New York Times reported.
"If you want to participate in our society fully, you've got to get vaccinated," New York City Mayor Bill de Blasio (D) said at a news conference. "It's time."
He added, "This is going to be a requirement. The only way to patronize these establishments is if you are vaccinated, at least one dose. The same for folks in terms of work, they will need at least one dose."
Truth and Accuracy
We are committed to truth and accuracy in all of our journalism. Read our editorial standards.
Comment Down Below
Conversation