News
Matt Gaetz Pressed on Whether He Is Concerned He Will Be Indicted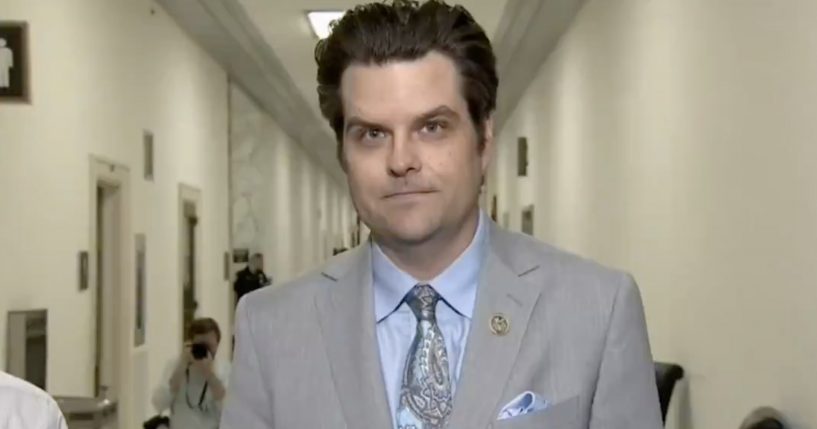 Rep. Matt Gaetz (R-Fla.) is firing back at reporters after being asked about whether he is concerned he will be indicted.
A reporter asked Gaetz on Friday if he has spoken to his ex-girlfriend about the ongoing investigation into whether he obstructed justice during a phone call he had with a witness.
The witness was a woman introduced to Gaetz by former Seminole County, Florida, tax collector Joel Greenberg, as Politico reports.
Advertisement - story continues below
The longtime associate of Gaetz pleaded guilty to six of nearly three dozen federal charges, including sex trafficking of a minor last month, as IJR reported.
Greenberg admitted to paying at least one underage girl to have sex with him and others. He agreed to cooperate with prosecutors as part of the plea deal.
Gaetz told the reporter, "I would love to be able to share all the people in my life that I talk to and don't talk to, but unfortunately the people in your profession have doxxed, harassed, threatened people that have been in my life."
Check out his comments below:
Advertisement - story continues below
Reporter: "Are you concerned you'll be indicted?"

Rep. Matt Gaetz: "No." pic.twitter.com/zPof9nTPk8

— The Hill (@thehill) June 4, 2021
He continued, "So I don't get into who I talk to and don't talk to because I don't want to put people in jeopardy."
When asked if he is concerned he will be indicted, Gaetz replied, "No."
According to sources, the ex-girlfriend patched Gaetz into the call between her and the witness. The sources also said the witness spoke with prosecutors.
A spokesperson for Gaetz told The Hill in a statement on Thursday, "Congressman Gaetz pursues justice, he doesn't obstruct it."
Advertisement - story continues below
They added, "The anonymous allegations have thus far amounted to lies, wrapped in leaks, rooted in an extortion plot by a former DOJ [Department of Justice] official. After two months, there is still not a single on-record accusation of misconduct, and now the 'story' is changing yet again."
The spokesperson also said Gaetz' legal team "continues to investigate the attempted extortion of a sitting U.S. Congressman and anyone who may be connected to it."
After the Department of Justice announced in March it is investigating whether Gaetz had sexual relations with a teenager, he claimed he was the victim of "an organized criminal extortion" involving an official from the DOJ.
Truth and Accuracy
We are committed to truth and accuracy in all of our journalism. Read our editorial standards.
Comment Down Below
Conversation