News
Matthew McConaughey Voices Opposition to Vaccine Mandates for Children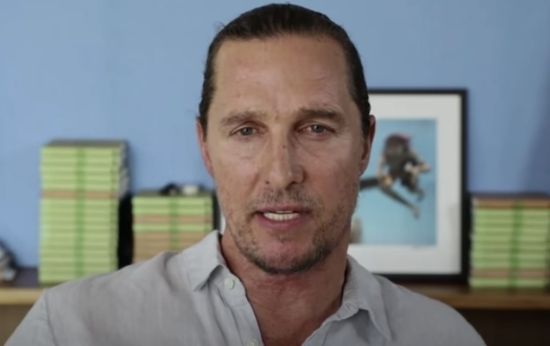 Actor Matthew McConaughey says while he is not opposed to the COVID-19 vaccine, he does not believe children should be required to get it.
During the The New York Times's DealBook summit, McConaughey explained he wants to "trust in the science," adding, "Do I think that there's any kind of scam or conspiracy theory? Hell no, I don't."
He continued, "We all got to get off that narrative. There's not a conspiracy theory on the vaccines."
Advertisement - story continues below
McConaughey said he is not vaccinating his children but he and his wife have been vaccinated.
"We have a high-risk person in our household, my mother who's 90 and she's immune compromised," he said.
When asked why he does not want his kids to be vaccinated, McConaughey replied, "We go slow on vaccinations anyway, even before Covid."
He claimed they have "quarantined harder than any of our friends."
Advertisement - story continues below
McConaughey told the host he "couldn't mandate having to vaccinate the younger kids. I still want to find out more information."
Watch his comments below (starting around 21:50):
Should children be required to get the vaccine?
Centers for Disease Control and Prevention (CDC) data shows more than 360,000 children under the age of 12 have received at least one dose of the COVID-19 vaccine.
President Joe Biden commented on the CDC's authorization of the vaccine for children ages 5 to 11 last week, calling it "a giant step forward to further accelerate our path out of this pandemic."
Advertisement - story continues below
While delivering remarks at the White House, Biden said, "The bottom line is: We've been planning and preparing for months to vaccinate our children. Our program will be ramping up this week and more doses (will be) shipped out each day so that we have it fully up and running by next week."
The president went on, "We're going to do everything we can to make these vaccines easily available and raise awareness of the importance of getting vaccinated. So parents of children ages 5 and over: please get them vaccinated."
Reminding parents the vaccine is "safe and effective," Biden also told them to "get your children vaccinated to protect themselves, to protect others and to stop the spread and to help us beat this pandemic."
Truth and Accuracy
We are committed to truth and accuracy in all of our journalism. Read our editorial standards.
Conversation