News
McCarthy Pressed on Why He Has Not Condemned Boebert's Comments About Omar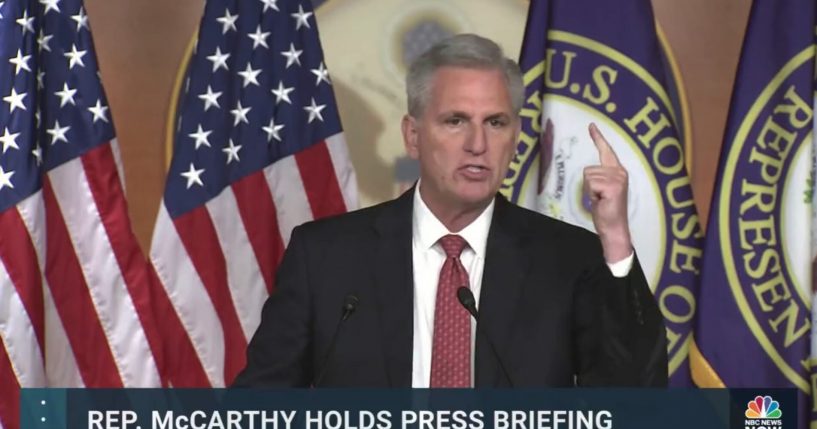 House Minority Leader Kevin McCarthy (R-Calif.) is facing a question about why he has not explicitly condemned comments from Rep. Lauren Boebert (R-Colo.) about Rep. Ilhan Omar (D-Minn.)
During a weekly press briefing on Friday, a reporter asked, "Regarding Rep. Boebert's islamophobic comments, why do you have such a hard time condemning something that is so clearly wrong?"
"Let me be very clear, this party is for anyone and everyone who craves freedom and supports religious liberty. Lauren Boebert, as I called her when it came forward, we talked, she apologized publicly, she apologized personally."
Advertisement - story continues below
Watch the video below:
House Leader Kevin McCarthy on not condemning Rep. Lauren Boebert's Islamophobic comments directed at Rep. Ilhan Omar: "She apologized publicly. She apologized personally …"

(Boebert has not apologized to Omar publicly and, per Omar, has not privately either.) pic.twitter.com/mhfFDNPNlp

— The Recount (@therecount) December 3, 2021
Last week, a video surfaced of Boebert sharing an allegedly made up story about an elevator ride she had in the Capitol with Omar.
"I was getting into an elevator with one of my staffers," Boebert began as she claimed she saw a Capitol police officer "running hurriedly to the elevator" with "fret all over his face."
Advertisement - story continues below
She continued, "I look to my left, and there she is — Ilhan Omar. And I said, 'Well, she doesn't have a backpack. We should be fine.' So we only had one floor to go…I looked over, and I said, 'Oh look, the jihad squad decided to show up for work today.'"
She later apologized to "anyone in the Muslim community I offended with my comment."
In a statement after the video surfaced, McCarthy said, "I talked to Congresswoman Lauren Boebert today."
"She has apologized for what she said and has reached out to Congresswoman Omar to meet next week," he added without explicitly condemning the comments.
However, the call apparently did not go well. On Monday, Boebert said Omar asked for a public apology during the call and hung up after she pushed the Minnesota Congresswoman to "make a public apology to the American people for her anti-American, anti-Semitic, anti-police rhetoric."
Advertisement - story continues below
In a statement, Omar said she hung up because Boebert "refused to acknowledge her hurtful and dangerous comment publicly" and "instead doubled down on her rhetoric."
Truth and Accuracy
We are committed to truth and accuracy in all of our journalism. Read our editorial standards.
Comment Down Below
Conversation