News
McCarthy Promises to Strip 3 Dems From Committees if Republicans Take Control of the House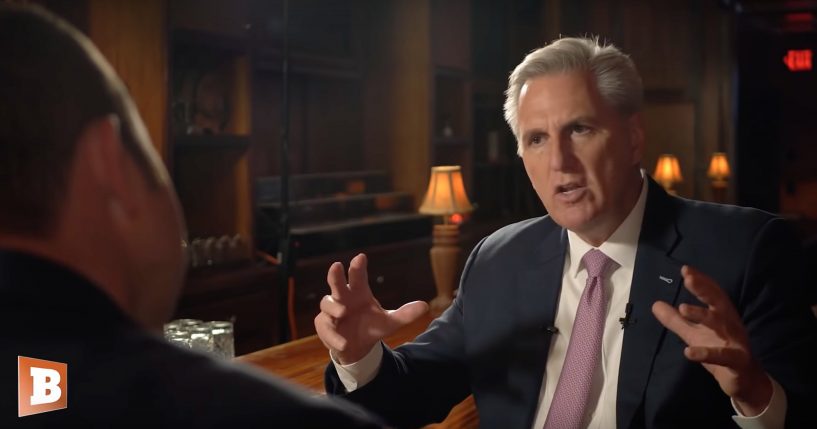 House Minority Leader Kevin McCarthy (R-Calif.) is promising he will strip at least three prominent Democrats from their committee assignments if Republicans regain control of the House in the 2022 midterms.
During an interview with Breitbart, McCarthy said, "The Democrats have been creating a new thing where they're picking and choosing who can be on committee."
"Never in the history have you had the majority tell the minority who can be on a committee. But this new standard which these Democrats have voted for… If Eric Swalwell cannot get a security clearance in the private sector, there's no reason why he should be given one to be on [intelligence] or homeland security. So he will not be serving there," he continued.
Advertisement - story continues below
McCarthy's comments about Rep. Eric Swalwell (D-Calif.) appeared to refer to a Dec. 2020 report that he had ties to a suspected Chinese spy.
In a statement to Axios, Swalwell's office said the Congressman cut ties with the suspected spy and "long ago, provided information about this person — whom he met more than eight years ago, and whom he hasn't seen in nearly six years — to the FBI."
The California Democrat, and member of the House Intelligence Committee, has not been accused of wrongdoing.
McCarthy added, "Ilhan Omar should not be serving on Foreign Affairs."
Advertisement - story continues below
Rep. Ilhan Omar (D-Minn.) has repeatedly come under fire for controversial comments that critics argue are anti-Semitic.
Watch the video below:
Do you think they should be stripped of committee assignments?
McCarthy also said House Intelligence Committee Chairman Adam Schiff (D-Calif.) "should not be serving on intel."
"[Schiff] has openly knowingly now used a fake dossier, lied to the American people in the process and doesn't have any ill-will, says he wants to continue to do it," he added.
Advertisement - story continues below
The California Republican's comments refer to Schiff's promotion of the so-called Steele Dossier.
In November, a key researcher for opposition research on former President Donald Trump known as the Steele Dossier was arrested for allegedly lying to the FBI about his sources.
As The New York Times reported, "The analyst, Igor Danchenko, was a primary researcher for claims that went into the so-called Steele dossier, a compendium of rumors and unproven assertions suggesting that Mr. Trump and his 2016 campaign were compromised by and conspiring with Russian intelligence officials to help him defeat Hillary Clinton."
After the indictment of the researcher, Schiff said he did not "regret" promoting the dossier.
Advertisement - story continues below
Last year, House Democrats voted to strip Reps. Marjorie Taylor Greene (R-Ga.) and Paul Gosar (R-Ariz.) of committee assignments as punishment for controversial comments and sharing a controversial anime video.
Truth and Accuracy
We are committed to truth and accuracy in all of our journalism. Read our editorial standards.
Comment Down Below
Conversation