News
McEnany Claims She 'Never Lied' As Press Secretary Because She Is 'A Woman of Faith'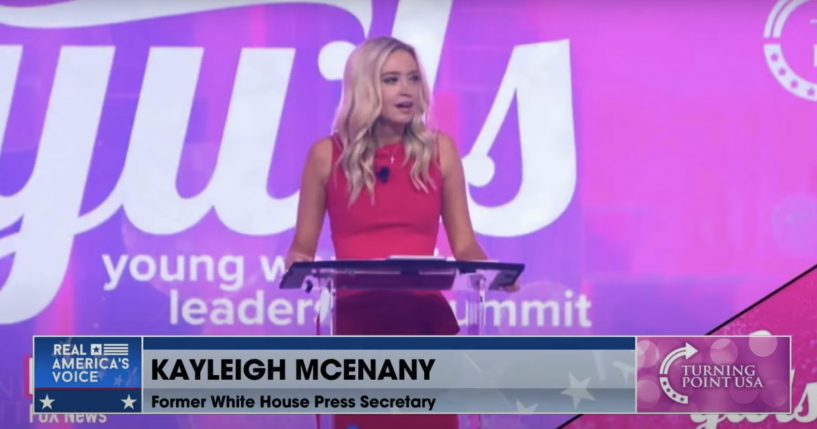 Former White House Press Secretary Kayleigh McEnany claims she "never lied" during her time in the Trump administration as press secretary, saying she is "a woman of faith."
During an event over the weekend, McEnany mentioned a question she was asked during her first press briefing of whether she would ever lie.
"I said without hesitation, no and I never did. As a woman of faith, as a mother of baby Blake, as a person who meticulously prepared at some of the world's hardest institutions, I never lied. I sourced my information," she said at Turning Point USA's Young Women's Leadership Summit.
Advertisement - story continues below
McEnany continued, "But that will never stop the press from calling you a liar."
She later argued Republicans "always get the bad headlines, always get the false stories, always get the lies … told by the press. There is one standard for Democrats and another for Republicans and we must be on offense, confident, bold, and willing to call it out. We cannot be silent."
Watch the video below:
Advertisement - story continues below
McEnany told reporters during her first official press briefing, "I will never lie to you, you have my word on that."
A CNN fact check found McEnany made "false" and "misleading claims" during her first press briefing since now-former President Donald Trump lost the election. First, she suggested Trump "was never given an orderly transition of power."
The fact check explains, "In 2016, Hillary Clinton conceded the race to Trump in the early morning after Election Day. Two days later, Biden met with then Vice-President elect Mike Pence and Obama met with Trump."
CNN called McEnany's idea that mail-in ballots are susceptible to widespread fraud and that"there are real questions" over large scale mail-in voting "baseless."
Another claim CNN addressed was McEnany's suggestion that initial projections predicted the number of potential COVID-19 deaths in the United States would reach 2 million, saying "we are far below the 2 million that this could have been." The outlet called this argument "misleading."
Advertisement - story continues below
The former press secretary also said the Mueller investigation "exonerated President Trump."
The fact check reads, "Mueller did not exonerate Trump. In fact, Mueller's final report explains that there was strong evidence that Trump obstructed justice, on several occasions."
It continues, "But Mueller decided not to make a decision on whether to charge Trump, for many reasons, including Department of Justice policy that a president 'cannot be charged with a federal crime while he is in office. That is unconstitutional.'"
Politifact's scorecard for McEnany found some of her statements were "mostly false," "false," and "pants on fire."
Truth and Accuracy
We are committed to truth and accuracy in all of our journalism. Read our editorial standards.
Conversation