Kayleigh McEnany Says the Pandemic Will Be 'Handled' in a 'Second Trump Administration'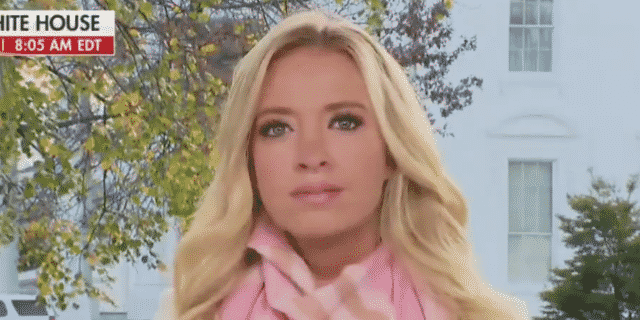 White House press secretary Kayleigh McEnany is pressing forward that there will be a "second Trump administration."
McEnany spoke on "Fox & Friends" Wednesday where she was asked if the transfer of power will be peaceful, "if the president doesn't win." McEnany said Trump "has always said he will engage in a peaceful transfer of power."
"But, the president believes, so to do many others, that if every legal vote is counted, he will remain president," McEnany continued, adding, "This president always wants what's in the best interest of our country."
And, despite several major news outlets declaring victory for President-elect Joe Biden in the election, McEnany continued to say that there will be a "second Trump administration."
She later said, "With respect to COVID, this president has done a vaccine in record time… ready to be distributed, a task force that's done an excellent job, a stockpile that was left empty by Obama/Biden he's filled up since then."
The press secretary defended the president, saying he has "left an infrastructure in place where COVID can be handled and we believe that we will do so going forward in a second Trump administration."
Watch McEnany's comments (starting at 2:15):
Major news outlets have projected Biden as the winner of the presidential election with 306 Electoral College votes, more than the 270 electoral votes needed to win the White House. This is compared to the 232 electoral votes for Trump.
Trump, however, has continued to press forward with lawsuits in multiple states and has made unsubstantiated election fraud claims. Without evidence, he has suggested that he has won the election and called the election "rigged."
Secretary of State Mike Pompeo recently received criticism after he said at a press conference, "There will be a smooth transition to a second Trump administration," when asked if his team is planning to coordinate with Biden's team to help with a smooth transition.
He later said during a Fox News interview, "I am very confident that we will have a good transition. That we will make sure that whoever is in office on noon on January 20, has all the tools readily available so that we don't skip a beat with the capacity to keep Americans safe."
U.S. national security adviser Robert O'Brien said this week, "We may have policy disagreements, but look, if the Biden-Harris ticket is determined to be the winner — and obviously things look that way now — we'll have a very professional transition from the National Security Council. There's no question about it."