News
McEnany Says Psaki 'Should Cry' About Abortion Instead of FL's Parental Rights in Education Bill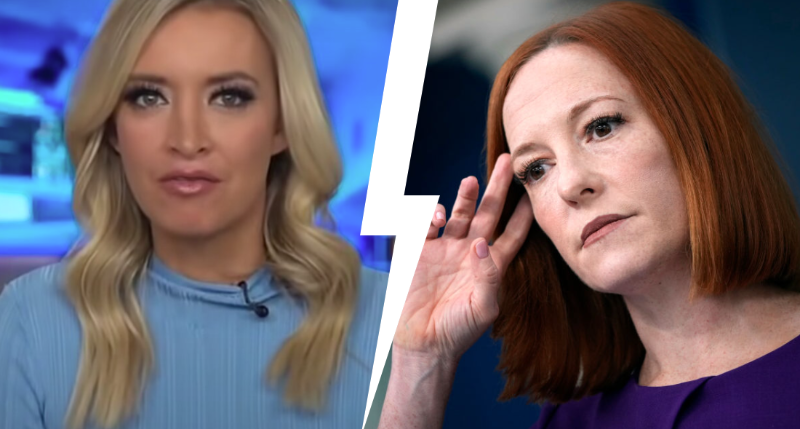 Former White House Press Secretary Kayleigh McEnany is calling out her successor for getting emotional about a wave of bills similar to Florida's "Parental Rights in Education" law.
McEnany discussed a moment when White House Press Secretary Jen Psaki became emotional talking about bills addressing LGBTQ issues that are being pushed by Republican state lawmakers across the country.
"The left has a sick obsession with our children," McEnany began. "Think about the last 24 hours for the White House, they want to force face cloth coverings on two-year-olds on airplanes, and force teach them about sexuality and gender ideology at kindergarten."
Advertisement - story continues below
She continued, "And of all the issues to cry and get upset about, there's a war in Ukraine. There is bloodshed in our streets, children are literally dying on the streets from crime that is totally out of control and rampant. There is Covid where more Americans have died on Joe Biden's watch than on President Trump's."
"There is a lot to cry about. Namely, if you want to cry about one issue in this country right now, I think the press secretary should cry about the 62 million children that do not exist, that have been aborted because of Roe v. Wade, a heinous, heinous decision in this country that has exterminated about one-fifth of the United States' population," she added.
McEnany's 62 million figure appears to come from the National Right to Life Committee (NRLTC), which estimated there had been 62,502,904 abortions performed since the Roe v. Wade decision in 1973 through Jan. 2021.
Finally, McEnany said, "So if you want to cry, don't cry about forcing sexuality on kindergartners — that is sick — cry about the 62 million children who can't even go to kindergarten."
Advertisement - story continues below
Watch the video below:
Psaki discussed Florida's "Parental Rights in Education" law — dubbed the "Don't Say Gay" law — as well as similar measures across the country during a recent episode of the "News Not Noise" podcast.
"The political games and harsh and cruel attempts at laws, or laws that we're seeing in some states like Florida, that is not a reflection of the country moving to oppose LGBTQ+ communities," Psaki said.
She continued, "That is not what we see in data, that is not factual, and that is not where things stand. This is a political wedge issue, and an attempt to win a culture war."
Advertisement - story continues below
According to The Washington Post, "Nationwide, GOP lawmakers have filed nearly 200 state bills this year that seek to erode protections for transgender and gay youth or restrict discussion of LGBTQ topics in public schools."
The Post notes that roughly 75 bills ban or restrict classroom discussion of LGBTQ issues, another nearly 50 ban transgender athletes from competing on sports teams that "don't align with the gender they were assigned at birth."
Additionally, at least 29 bills ban gender-affirming treatment for transgender youth, and "dozens of other bills focused on restricting LGBTQ rights."
As she continued to speak about the wave of such bills, Psaki became emotional.
Advertisement - story continues below
"They're doing that in a way that is harsh and cruel to a community of kids, especially. I'm going to get emotional about this issue because it's horrible! But it's kids who are bullied, and all these leaders are taking steps to hurt them, and hurt their lives and hurt their families!" she said.
Truth and Accuracy
We are committed to truth and accuracy in all of our journalism. Read our editorial standards.
Comment Down Below
Conversation