News
Psaki Tears Up While Accusing GOP of Taking Steps 'to Hurt' Children by Pushing LGBTQ Bills Similar to FL's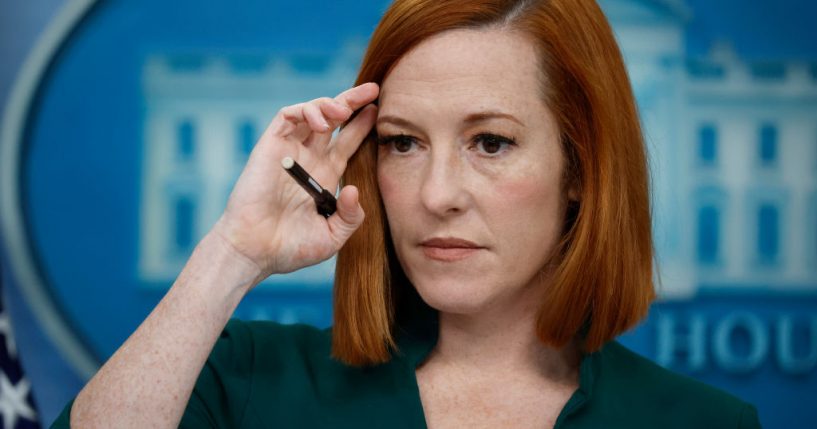 White House Press Secretary Jen Psaki accused Republican lawmakers across the country of taking steps "to hurt" children.
During an interview on the "News Not Noise" podcast released on Tuesday, host Jessica Yellin asked the press secretary about bills similar to Florida's "Parental Rights in Education" law working their way through state legislatures.
"How do you make sense of what's happening? Is this sort of a predictable backlash to change? Or is this an organized political attempt to create a wedge issue ahead of the midterms in the 2024 campaign?" she asked.
Advertisement - story continues below
Psaki responded, "The political games and harsh and cruel attempts at laws, or laws that we're seeing in some states like Florida, that is not a reflection of the country moving to oppose LGBTQ+ communities."
"That is not what we see in data, that is not factual, and that is not where things stand. This is a political wedge issue, and an attempt to win a culture war," she continued.
Psaki went on and broke down in tears:
"They're doing that in a way that is harsh and cruel to a community of kids, especially. I'm going to get emotional about this issue because it's horrible! But it's kids who are bullied, and all these leaders are taking steps to hurt them, and hurt their lives and hurt their families!"
Advertisement - story continues below
She added, "And you look at some of these laws in these states and who's going after parents who are in loving relationships, who have kids. It's completely outrageous!"
Listen to the podcast below:
Listen to "Beyond the podium" on Spreaker.
The press secretary continued, "What we're talking about here in Florida, for example…is that families, if you have a kid in a classroom, and I have a kindergartner, right? I can imagine her saying, 'My friend has two moms. My friend has two dads.' And the teacher in her classroom, I would hope would say, 'That's wonderful. They're loving parents, and you have a mom and a dad.'"
"This is penalizing teachers and educators. I mean, it is. There are so many layers of this that are outrageous, and I hope people continue to educate themselves on this because it is a bad side of politics," she added.
Advertisement - story continues below
Florida received criticism for its "Parental Rights in Education" law — which has been dubbed the "Don't Say Gay" law.
As NBC News explains, "The measure bans 'classroom instruction by school personnel or third parties on sexual orientation or gender identity' in kindergarten through third grade."
"It also prohibits such teaching 'in a manner that is not age appropriate or developmentally appropriate for students,' which critics say could be interpreted to extend to all grade levels. Parents can sue school districts for alleged violations," it added.
In March, Psaki said, "I think the most important question now is why are Florida leaders deciding they need to discriminate against kids who are members of the LGBTQI community? What prompts them to do that? Is it meanness? Is it wanting to make kids have more difficult times in school?"
Advertisement - story continues below
According to The Washington Post, "Nationwide, GOP lawmakers have filed nearly 200 state bills this year that seek to erode protections for transgender and gay youth or restrict discussion of LGBTQ topics in public schools."
Truth and Accuracy
We are committed to truth and accuracy in all of our journalism. Read our editorial standards.
Comment Down Below
Conversation