McEnany Rails Against Dem 'Squad' for Calls to Pack the Supreme Court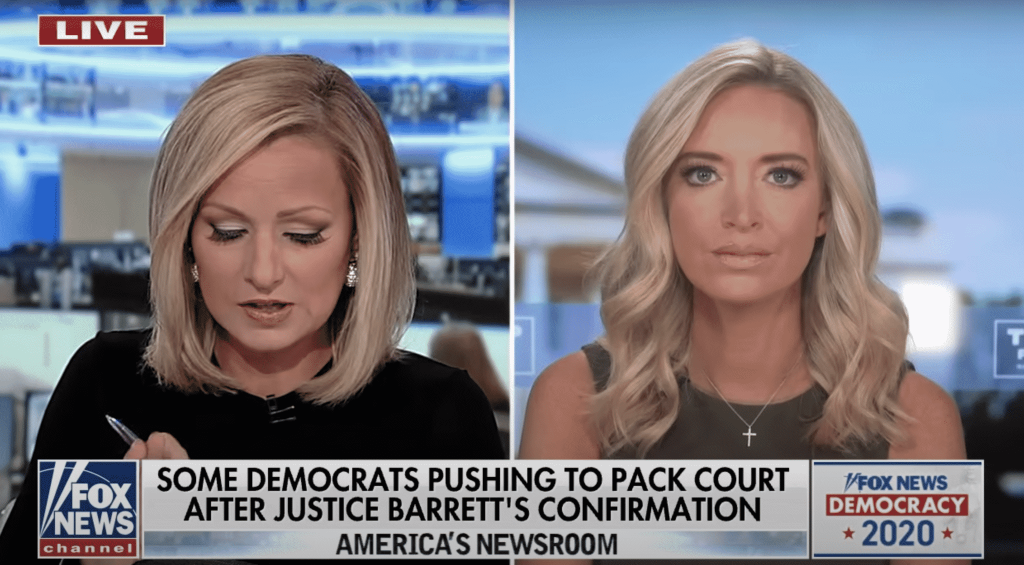 White House Press Secretary Kayleigh McEnany is sounding off on Democratic members of the "squad" for calling for the expansion of the Supreme Court following the confirmation of Judge Amy Coney Barrett.
Fox News's Sandra Smith noted Rep. Alexandria Ocasio-Cortez (D-N.Y.) and Rep. Ilhan Omar (D-Minn.) posted the same three words to Twitter after the Senate voted to confirm Barrett, "Expand the court."
Smith asked McEnany what this tells her about their plans if their party takes the majority on election day.
"Joe Biden has become an empty vessel for the radical left as he's withered away and you heard from his puppeteers last night, AOC and Ilhan Omar, the people who are pulling the strings, calling the shots," McEnany said.
She added, "He will pack the court. It's why he said he can't share his stance with us because it would make headlines. Yes it would make headlines."
Watch her remarks below:
She explained when former President Franklin Delano Roosevelt attempted to pack the court, senators told him doing so would "destroy the American republic."
"Leave it to Joe Biden to try it today. You heard from AOC, you heard from Ilhan Omar. As reporters were screaming questions at him about packing the court, his handlers pushed the press away because he cannot answer that question because 60% of independent voters are against that according to The New York Times poll," McEnany said.
The Senate voted 52-48 in favor of Barrett's nomination on Monday night, as IJR previously reported.
Her confirmation garnered backlash from several Democratic lawmakers including House Speaker Nancy Pelosi (D-Calif.), as IJR previously reported.
She said by confirming Barrett, Republicans "have committed an act of supreme desperation by jamming through a Supreme Court justice — all so that they can achieve their years-long campaign to destroy Americans' health care."