Commentary
Kayleigh McEnany on Whoopi Goldberg: 'Cancel Culture Comes for the Cancellers'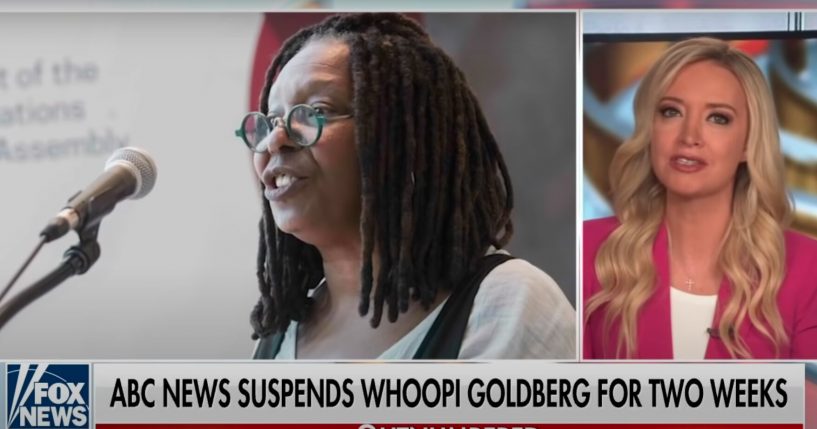 Former White House Press Secretary Kayleigh McEnany is pointing out the irony of Whoopi Goldberg's two-week suspension from "The View."
"When cancel culture comes for the cancellers," McEnany said during a segment of Fox News' "Outnumbered" about Goldberg's suspension on Wednesday.
She continued, "I don't believe in cancel culture. I really don't. But what's ironic about this is these ladies do believe in cancel culture. I had to do a cursory Google of the times they talked about cancel culture, when 'Gone with the Wind' was the subject of cancellation, and 'Cops,' and other shows. And they had a guest host say, 'You do something horrible sometimes there's a comeuppance.'"
Advertisement - story continues below
McEnany pointed out that Sunny Hostin argued on the show there should have "always been a zero-tolerance policy for racially insensitive behavior at work."
"It was only Meghan McCain who said, 'Guys, this is a slippery slope maybe we should stand up against cancel culture.' Good for Meghan McCain. But [it's] interesting when the cancel culturerers become the subject of cancel culture."
Watch the video below:
Advertisement - story continues below
On Tuesday, Goldberg received a two-week suspension from the "The View" after claiming the Holocaust was "not about race," despite her later apology.
The incident highlights the problem with cancel culture that conservatives have been warning its proponents of for years: it will not stop with the bombastic and controversial voices on the right.
Do you think cancel culture is "ridiculous"?
From the attempts to cancel and silence far-right conspiracy theorists like Alex Jones to The Atlantic's decision to fire conservative writer Kevin Williamson to actress Gina Carano being fired from Disney's "The Mandalorian" to the effort to get podcast host Joe Rogan kicked off Spotify, conservatives have been warning liberals that attempts to de-platform and punish people for heterodox views or insensitive comments — no matter how long ago — will not stop with people they despise.
Last year, some on the left started to wake up to the idea that cancel culture is a beast that cannot be tamed after Teen Vogue announced that Axios' Alexi McCammond would be its editor-in-chief.
After an internal backlash to McCammond's hiring over anti-Asian tweets she sent years earlier, which she apologized for, she "decided to part ways" with the company before her first day on the job.
Advertisement - story continues below
This week is just another piece of evidence that no one is safe from cancel culture, not even its advocates.
MSNBC's Mika Brzezinski had it mostly correct when she said cancel culture is "start getting ridiculous" and "getting so out of hand."
Except, it has been ridiculous and out of hand for a while.
Truth and Accuracy
We are committed to truth and accuracy in all of our journalism. Read our editorial standards.
Comment Down Below
Conversation