News
Melania Trump Advocates for 'A Brighter Future' for Children in Foster Care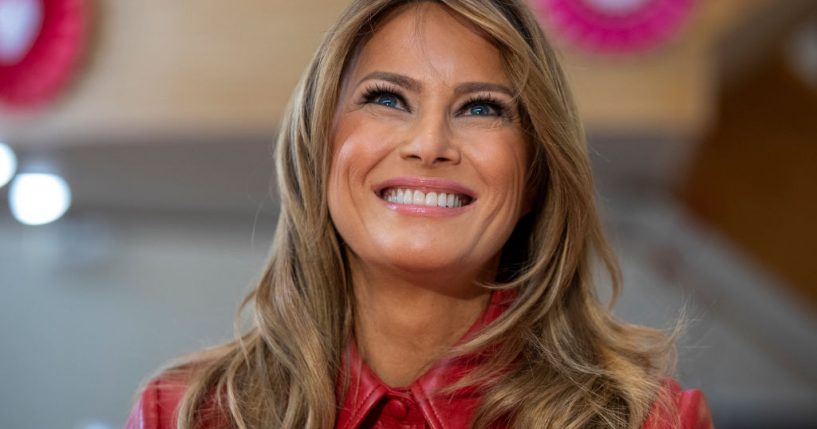 Former First Lady Melania Trump is calling on Americans to come together to "uplift children in the foster care community and foster a brighter future."
"Our Nation has an ongoing obligation to invest in our future by supporting foster children," the former first lady wrote in a Fox News op-ed titled, "A stronger foster care system is a stronger America," published on Tuesday.
She called for a framework to be built for "long-term economic stability and success — including for older foster youth and those aging out of the foster care system."
Advertisement - story continues below
Trump noted that 20,000 youth age out of foster care each year, and declared that "it's crucial to ensure we do a better job of preparing foster youth for a successful transition to adulthood."
She added:
"In fact, across the country, thousands of children entrusted to the foster care system are searching for direction, answers, and hope — and America must deliver."
"This year, several child welfare programs that serve the 407,000 youth in care are set to expire," Trump wrote. "Congress must examine these programs and implement improvements to make them work better for our Nation's youth and families. Accordingly, in addition to supporting older foster youth, one major priority must be kinship care."
Advertisement - story continues below
"Every child across the country should have the opportunity to thrive and achieve the American Dream."
Under Trump's "Be Best" initiative, she sought to advocate "for supporting child welfare in order to improve the lives…and well-being of children and youth in foster care throughout the Country," per the White House.
Trump concluded, "This May, we ask Americans to join us in marking National Foster Care Month by helping children and youth in foster care and by celebrating all — from foster parents and caregivers, coaches to community volunteers — who stand by them."
More than 407,000 children and youth were in foster care, according to the Adoption and Foster Care Analysis and Reporting System fiscal year 2020 data.
The majority at 45% were in a "foster family home (non-relative)," while 34% were in a relative foster family home and 6% were in an "institution" setting, according to the data. Fifty-four percent had a case plan goal to reunify with parent(s) or primary caretaker(s) and 28% with a case plan goal of adoption.
Advertisement - story continues below
President Joe Biden issued a proclamation for National Foster Care Month, writing on April 29, "Every May, we renew our commitment to ensuring that all youth in foster care have the love, support, and resources they need to thrive."
He noted that his administration implemented the Supporting Foster Youth and Families through the Pandemic Act to help "foster youth aging out of the system access services to stay in school, participate in job training programs, pay rent and other bills, and transition to adulthood."
As he added, the Biden administration has also funded grants "that help agencies connect kinship caregivers and foster parents to programs and services for children in their care."
Biden concluded, "Through education, volunteering, and partnerships, we can strengthen our communities and ensure that youth in foster care have the support they need for a future they deserve."
Truth and Accuracy
We are committed to truth and accuracy in all of our journalism. Read our editorial standards.
Comment Down Below
Conversation