News
Melania Trump Was Reportedly So 'Checked Out' by 2020 She 'Slept Through Election Night'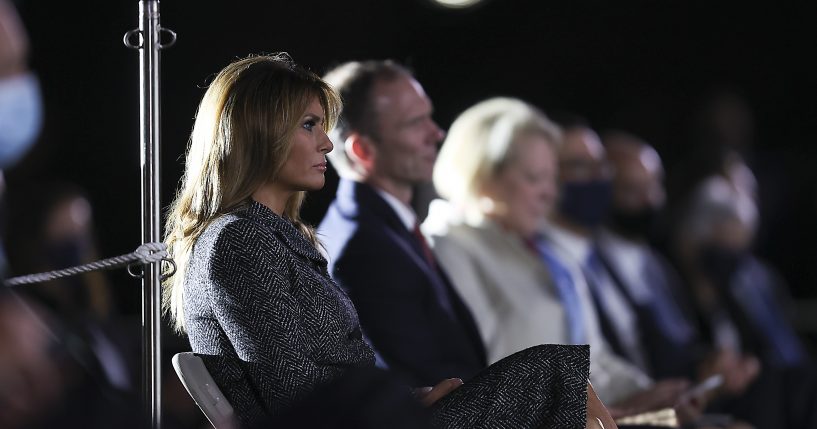 Former First Lady Melania Trump had no interest in staying awake for election night during the 2020 presidential election, according to a new book.
Former White House Press Secretary Stephanie Grisham wrote a new book titled, "I'll Take Your Questions Now," detailing the first lady's experience on election night.
The Washington Post noted Grisham was "one of the most senior and longest-serving Trump advisers, she worked as the president's third press secretary and as first lady Melania Trump's chief of staff and communications director before she resigned on Jan. 6 during the Capitol riot."
Advertisement - story continues below
According to the outlet, the book reveals several misdeeds by the former president. As the Post explains, Grisham was rarely responsive and never held a press briefing.
Included in her book, the outlet reports, Grisham explains how the former first lady "was so checked out that she slept through election night, as hundreds gathered in the White House for a party Melania had strenuously objected to — given the potential for another coronavirus outbreak at the White House."
Still, Melania Trump reportedly "intimated that she thought the 2020 election was illegitimate — that 'something bad happened,'" as the outlet put it.
The former White House press secretary reported Melania Trump "went along" with her husband's plan to snub First Lady Jill Biden rather than extend an invitation to her for the traditional first ladies tea welcoming her to the White House, as the Post reports.
Advertisement - story continues below
The outlet continued, "And the first lady also pointed out how she'd been criticized for not standing next to Trump the way Jill Biden stood next to her husband on election night."
Grisham writes, "She said, 'I don't stand next to him because I don't need to hold him up like she does. Can you imagine?' That made me laugh."
Melania Trump's office previously responded in a statement to Grisham's book.
"The intent behind this book is obvious. It is an attempt to redeem herself after a poor performance as press secretary, failed personal relationships, and unprofessional behavior in the White House. Through mistruth and betrayal, she seeks to gain relevance and money at the expense of Mrs. Trump," the statement said.
The former president's spokeswoman Liz Harrington said, "This book is another pitiful attempt to cash in on the President's strength and sell lies about the Trump family."
Advertisement - story continues below
Calling Grisham a "disgruntled former employee," Harrington explained publishers "should be ashamed of themselves for preying on desperate people who see the short term gain in writing a book full of falsehoods."
Truth and Accuracy
We are committed to truth and accuracy in all of our journalism. Read our editorial standards.
Conversation