News
Milley Speaks Out About Reported Calls With Chinese Counterpart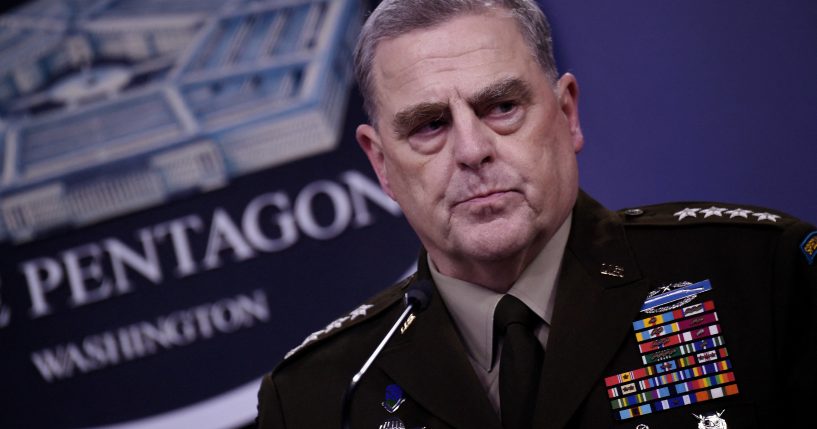 Chairman of the Joint Chiefs of Staff Gen. Mark Milley is defending reported phone calls he had with his Chinese counterpart.
In response to a report from a new book that he promised to give Chinese officials advanced notice if then-President Donald Trump ordered a strike in the waning days of his presidency, Milley did not deny that he held calls with Gen. Li Zuocheng of the People's Liberation Army.
However, he told The Associated Press on Friday that they were "routine" and meant "to reassure both allies and adversaries in this case in order to ensure strategic stability." He also said they were "perfectly within the duties and responsibilities" of his job.
Advertisement - story continues below
He did not go into more detail but added, "I think it's best that I reserve my comments on the record until I do that in front of the lawmakers who have the lawful responsibility to oversee the U.S. military."
Milley said he would "go into any level of detail Congress wants to go into in a couple of weeks."
His comments come after an excerpt of the new book "Peril" by Bob Woodward and Robert Costa of The Washington Post, revealed that Milley was so concerned that Trump would start a war with China that he contacted his Chinese counterpart to assure them that the U.S. could not conduct a strike.
As the Post reports, "In the book's account, Milley went so far as to pledge he would alert his counterpart in the event of a U.S. attack, stressing the rapport they'd established through a backchannel. 'General Li, you and I have known each other for now five years. If we're going to attack, I'm going to call you ahead of time. It's not going to be a surprise.'"
Advertisement - story continues below
However, an unnamed defense official told Politico that the book's description of the calls is "grossly mischaracterized."
"The official said the calls were not out of the ordinary, and the chairman was not frantically trying to reassure his counterpart," Politico reported.
The outlet also reports that Milley asked permission to then-acting Defense Secretary Christopher Miller to make the calls.
Miller told Politico, "Looking back, I imagine there was a perfunctory exchange between us and our staffs about coordinating phone calls and messages for the day."
"I don't recall the specifics and it certainly wasn't in a detailed or more formal way. It was more perfunctory/routine," he added.
Advertisement - story continues below
Still, Woodward and Costa told Politico they stand by their reporting.
Earlier this week, White House Press Secretary Jen Psaki said President Joe Biden has "complete confidence" in Milley's "leadership, his patriotism, and his fidelity to our Constitution."
Truth and Accuracy
We are committed to truth and accuracy in all of our journalism. Read our editorial standards.
Comment Down Below
Conversation