McConnell Vows To Set up Vote on a GOP Coronavirus Relief Package Amid Stalemate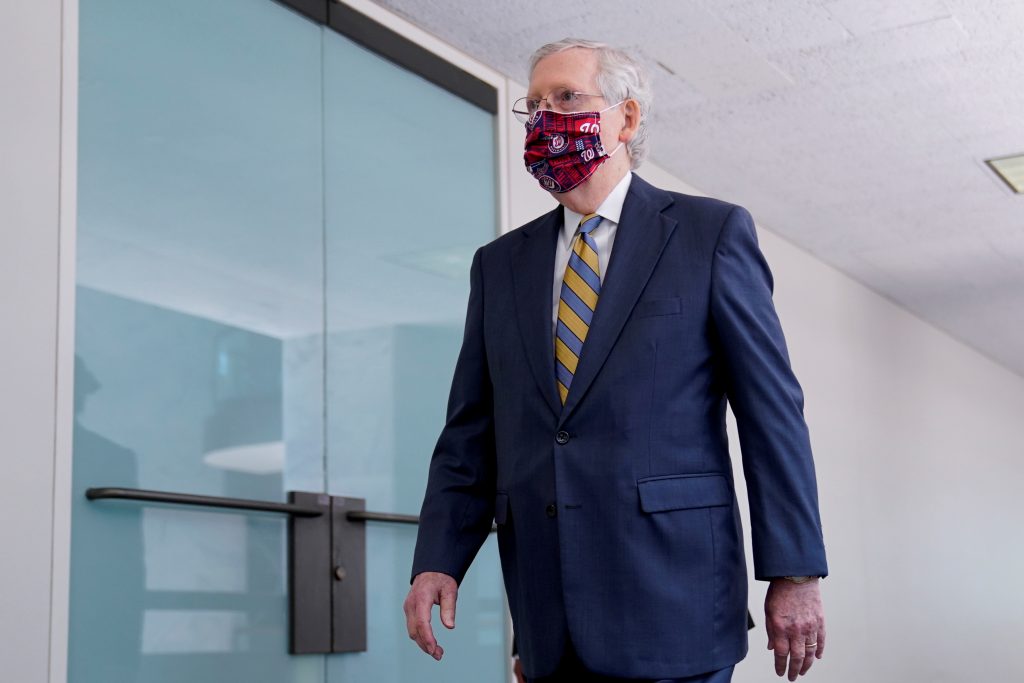 Senate Majority Leader Mitch McConnell (R-Ky.) is setting up to push a vote in the upper chamber on another coronavirus relief package as a stalemate between Republicans and Democrats has plagued Washington, D.C., for the past few months.
In a statement, McConnell said, "In July, we proposed another sweeping package totaling more than $1 trillion. Speaker Pelosi and Leader Schumer said no. In August, we proposed narrowing discussions to the most urgent and bipartisan subjects. They blocked that too."
The Kentucky Republican accused House Speaker Nancy Pelosi (D-Calif.) of trying to force a "piecemeal" vote on the Postal Service.
McConnell also accused Democrats of trying to play politics before the November election, saying, "Everything Speaker Pelosi and Leader Schumer have done suggests one simple motivation: They do not want American families to see any more bipartisan aid before the polls close on President Trump's re-election. They have taken Americans' health, jobs, and schools hostage for perceived partisan gain."
He announced a "new targeted proposal," saying that "it does not contain every idea our party likes."
The Senate leader added, "Republicans believe the many serious differences between our two parties should not stand in the way of agreeing where we can agree and making law that helps our nation."
Republicans and Democrats have big differences, but they should not stop us from agreeing where we can and making law to help Americans through this crisis. Working families cannot suffer more because Democrats think their pain helps them politically. The Senate is going to vote. pic.twitter.com/HzbPxvRe9I

— Leader McConnell (@senatemajldr) September 8, 2020
McConnell says that he is hoping to set up a floor vote as soon as this week.
Senate Republicans previously offered a $1.3 trillion package in late August, which Pelosi shot down in late August. The speaker said that Republicans "are rejecting the funding needed to ensure that no one has to choose between their health and their vote this November."
In May, House Democrats passed a $3 trillion dollar coronavirus relief package. But the White House and Republicans have been staunchly opposed to that bill. House Minority Whip Steve Scalise (R-La.) called the bill a "socialist giveaway."