News
MSNBC's Mika Brzezinski Reacts to Disappointing November Jobs Report: A 'Little Off'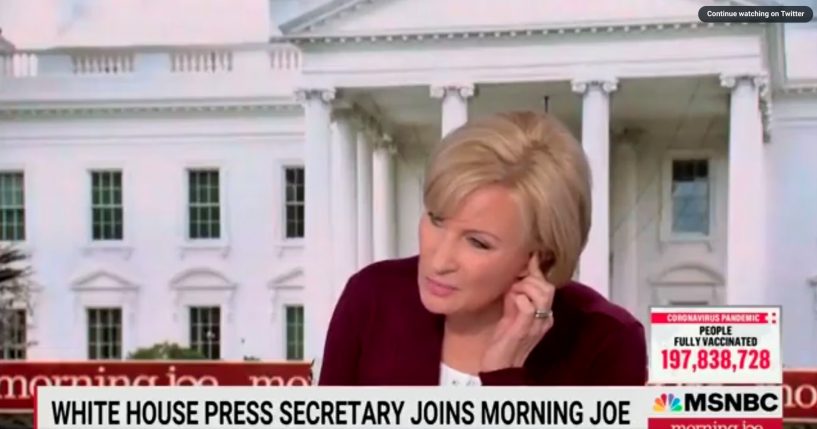 MSNBC's Mika Brzezinski reacted to the November jobs report, which showed the economy added less than half of the expected 500,000 jobs.
The co-host asked White House Press Secretary Jen Psaki, who made an appearance on "Morning Joe" Friday, for her response to the numbers.
"This just crossed, 210,000 jobs just added," Brzezinski noted. She asked, "So if we look at that breaking news right now, that's a number that feels at little what? A little off?"
Advertisement - story continues below
Psaki responded, "Well, I know this sounds a little archaic, but I can't comment on them until 9:30, by rules, because I work at the White House."
She continued, "What I will say is people can expect the president to continue to say, today, month to month, is that what we're seeing are good trends, that we are continuing to put people back to work, that we are continuing to see participation in the workforce. That we are continuing to see the unemployment rate go down.
"But there's more to do to address core problems that have existed long before the pandemic," she added.
Watch the video below:
Advertisement - story continues below
WATCH: On "Morning Joe," Jen Psaki claims she can't comment on the newly released, disastrous November jobs numbers, but then goes on to say "we're seeing good trends."

Total jobs added were about 300,000 short of expectations. #JobsReport pic.twitter.com/dT8MtkdpDl

— John Cooper (@thejcoop) December 3, 2021
According to data released by the Labor Department on Friday, the U.S. economy added 210,000 jobs which was half of the expected 500,000 jobs.
The unemployment rate dropped to 4.2%.
As The New York Times reports, "While the data from establishments was weaker than forecast, the household survey showed the number of employed Americans jumped by more than 1.1 million."
"And the overall participation rate, which measures the proportion of Americans who either have jobs or are looking for one, rose by 0.2 percentage point to 61.8 percent. The rate for prime-age workers, 25 to 54 years old, also edged up," it added.
Advertisement - story continues below
In October, the economy added 531,000 jobs which was seen as an optimistic sign for the economy.
Truth and Accuracy
We are committed to truth and accuracy in all of our journalism. Read our editorial standards.
Comment Down Below
Conversation