News
Navalny's Chief of Staff Says Putin 'Produced Many Lies' About the Kremlin Critic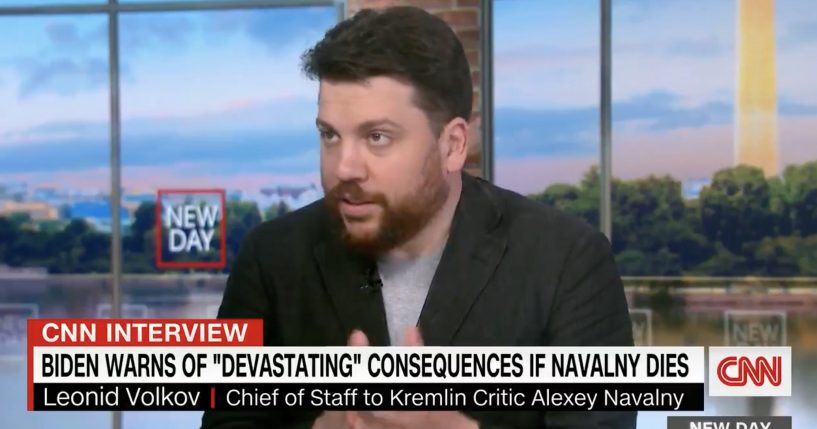 Kremlin critic Alexey Navalny's chief of staff Leonid Volkov accused Russian President Vladimir Putin of blatantly lying about the Russian opposition leader.
CNN's Brianna Keilar played a clip of Putin during his press conference, following his summit with President Joe Biden, answering a question about Navalny.
"This man knew he was breaking the law of Russia. He is somebody who has been twice convicted. He consciously ignored the requirements of the law. The gentlemen in question went abroad for treatment. His registration was not asked for," Putin said.
Advertisement - story continues below
He continued, "As soon as he went to the hospital he showed his videos on the internet, but ignored the demands of the laws. Knowing about that, I take the view that he wanted to consciously break the law. He did exactly what he wanted to do."
When asked for his thoughts on the response, Volkov said, "It seems like some kind of mental disorder because Putin could have many answers like being vague and like political but he preferred to give an answer which is a very clear and blatant lie."
Watch the interview below:
Putin "produced many lies" about Kremlin critic Alexey Navalny during the Russian president's press conference after meeting with President Biden, says Navalny's chief of staff Leonid Volkov. https://t.co/paDCAXM5WR pic.twitter.com/BeS3TqQJnj

— New Day (@NewDay) June 17, 2021
Advertisement - story continues below
Volkov explained for Putin to "pretend" Navalny tried to "consciously" violate the conditions of his provisional sentence is "so weird."
"He actually produced like many lies during his very short statement and I wonder if it actually was the message that he wanted to deliver," Volkov said.
Keilar asked Volkov what consequences "would deter Vladimir Putin or encourage him to make sure Navalny stays alive."
"There is only one possible action which is freezing Vladimir Putin's account," Volkov said.
Navalny is a blogger and anti-corruption leader who is now imprisoned in Russia, as USA Today reports. The outlet notes he has been in and out of prison for speaking out against Putin.
Advertisement - story continues below
In August of 2020, Navalny fell ill and was taken to a hospital in Germany "where doctors said he had been poisoned with a Russian-made military grade nerve agent, Novichok," according to USA Today.
Putin has repeatedly denied directing the attempted assassination. Navalny was arrested immediately after he returned to Russia and charged with violating the terms of his parole.
During the press conference on Wednesday, a reporter asked Putin about his political opponents that are "dead, in prison, poisoned," as IJR reported.
He brought up the January 6 insurrection at the U.S. Capitol.
Advertisement - story continues below
"On the question of who is murdering whom, people rioted and went into the Congress in the U.S. with political demands and many people were declared as criminals and they are threatened with imprisonment from 20 to 25 years," Putin said.
He added, "These people were immediately arrested after those events, on what grounds we don't know always. The states didn't actually inform us about that. One of the participants were just shot on the spot and unarmed as well. Many countries are going through exactly what we're going through. Let me just repeat, we sympathize with what was happening in the states but we do not wish that to happen in Russia."
Truth and Accuracy
We are committed to truth and accuracy in all of our journalism. Read our editorial standards.
Comment Down Below
Conversation