News
Unwanted? NBC News Journalists Irritated by MSNBC Talks of Hiring Jen Psaki: Report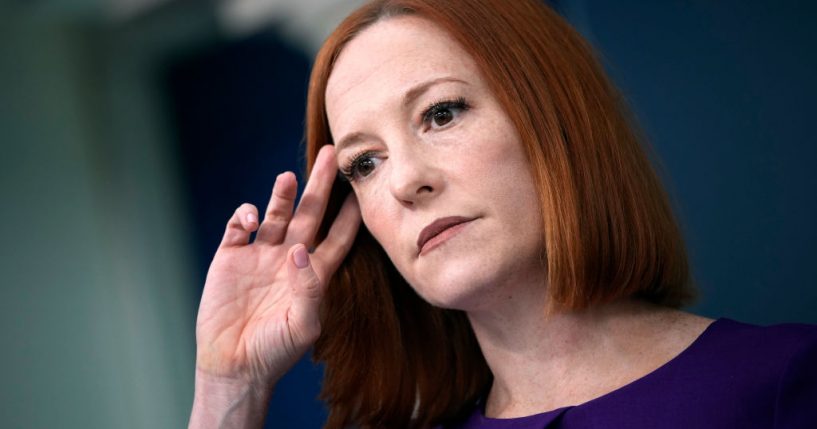 News of White House Press Secretary Jen Psaki potentially joining MSNBC does not seem to be getting a warm welcome from NBC News journalists.
The journalists are "troubled by and have expressed dismay" to executives at NBC News over talks of hiring Psaki at MSNBC, according to CNN.
NBC News president Noah Oppenheim held a call on Friday to address the concerns from irritated staffers and "reaffirmed the distinction on the call between NBC News and MSNBC's opinion programming." Some of the Washington bureau staffers "have complained to their superiors that the tentative hiring tarnishes the NBC News brand," the outlet reports.
Advertisement - story continues below
A person that was on the call told CNN, "Here's what he was saying: They have perspective programming. This was done on the perspective programming side. Not anything that reflects on NBC News."
The person added, "People wanted answers on what NBC's role was in this and NBC News had no role in this. This is MSNBC's perspective programming."
Per CNN, "Oppenheim's call, however, hasn't fully stamped out the frustration among NBC News journalists."
Axios reported on April 1 that Psaki plans to leave her job at the White House to join MSNBC.
Advertisement - story continues below
The outlet noted at the time that no contracts had been signed and "MSNBC has been working with its compliance lawyers to make sure their conversations didn't violate any government regulations, according to a source close to the matter."
Psaki was asked by reporters about the report of the new gig. She, however, refused to confirm or deny it.
Would it tarnish the NBC News brand?
Psaki told reporters on Friday, "I have nothing to confirm about my length of public service or planned service or anything about consideration about next plans."
The White House press secretary was asked by CBS reporter Ed O'Keefe if it is "ethical" to "continue conducting this job while negotiating with the media."
Psaki responded, "Well, I have always gone over and above the stringent ethical and legal requirements of the Biden administration and I take that very seriously."
Advertisement - story continues below
White House press secretary Jen Psaki sought to reassure reporters she has received rigorous ethical counseling after news she is in exclusive talks with MSNBC to join the network and that they are close to a deal.

READ MORE: https://t.co/D9kddkFDMM pic.twitter.com/s8Ro1NUCPE

— Washington Examiner (@dcexaminer) April 1, 2022
She added, "As a standard for every employee at the White House, I have received rigorous ethics counseling as it relates to any future employment. I've complied with all ethics requirements and gone beyond and taken steps to reduce myself from decisions as appropriate."
NBC News' Kristen Welker also asked Psaki, "Jen, given the reports that have been confirmed by multiple media outlets, how can you continue to be an effective briefer if you do in fact have plans to join a media outlet?"
Psaki reiterated her previous remarks, resulting in Welker to follow up, "The question is how is it ethical to have these conversations with media outlets while you continue to have a job standing behind that podium?"
Advertisement - story continues below
"There are a range of stringent ethical and legal requirements that are imposed on everybody in this administration and many administrations past about any conversations you are having with future employers," Psaki replied. "That is true of any industry you're working in and I have abided by those and tried to take steps to go beyond that as well."
Truth and Accuracy
We are committed to truth and accuracy in all of our journalism. Read our editorial standards.
Comment Down Below
Conversation