News
Nearly Half of Americans Say Biden Is 'Doing More to Divide the Country' Than Unite It: Poll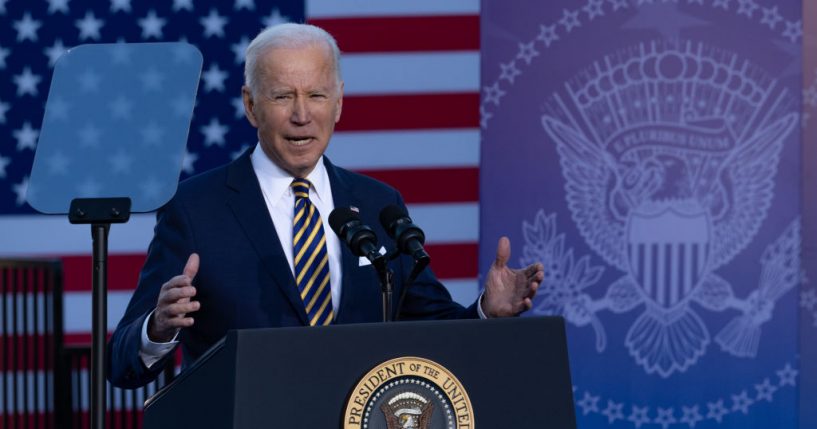 President Joe Biden made unity a major theme of his 2020 campaign.
However, after almost one year in office, 49% of Americans believe he is "doing more to divide the country." In contrast, 42% say he is doing more to unite it, according to a new Quinnipiac poll released on Wednesday.
The poll also found 58% of Americans believe democracy is at risk of collapse while 37% do not.
Advertisement - story continues below
Broken down by party affiliation, 62% of Republicans, 57% of independents, and 56% of Democrats believe there is a risk that democracy will collapse.
Additionally, 53% of Americans believe political divisions will get worse during their lifetime, while 28% believe they will stay about the same.
Quinnipiac poll analyst Tim Malloy said, "A fear of the enemy within, not a foreign threat, punctuates a grim assessment by Americans of a democracy in peril and a future of deepening political divisions."
The poll also found that 33% of Americans approve of Biden's job performance while 53% disapprove.
Advertisement - story continues below
In November, 36% of Americans approved of his job performance, while 53% did not approve.
Among Democrats, his approval ratings fell 12 points from November to 75%.
Do you think Biden is "doing more to divide" the country?
CNN's Ryan Struyk pointed out that the president's approval rating has decreased in each of the last seven Quinnipiac polls.
President Biden's overall approval rating in the last seven Quinnipiac polls: 49%, 46%, 42%, 38%, 37%, 36%, 33%.

— Ryan Struyk (@ryanstruyk) January 12, 2022
He receives negative marks for his handling of foreign policy, the economy, and his response to the COVID-19 pandemic.
Advertisement - story continues below
The poll comes as the U.S. continues to break records for the number of new cases recorded every day. On Monday, the country reported 1.3 million new cases.
Additionally, the poll found that Republicans and Democrats are statistically tied for which party voters say they want to control the House.
The latest Quinnipiac poll surveyed 1,178 registered voters from Jan. 7 – Jan. 10 and has a 2.9% margin of error.
Truth and Accuracy
We are committed to truth and accuracy in all of our journalism. Read our editorial standards.
Comment Down Below
Conversation