FaithTap
Nichelle Nichols, Who Broke Racial Barriers on 'Star Trek,' Has Died at 89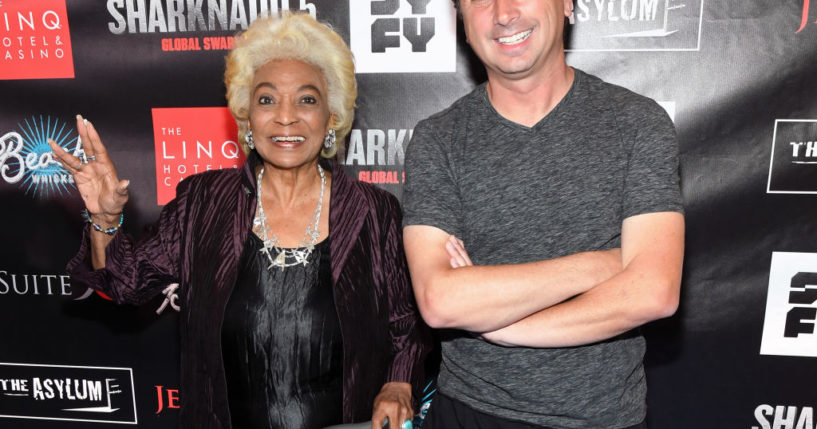 Actress Nichelle Nichols died Sunday at the age of 89.
The news of her death was confirmed by her talent manager and business partner of 15 years, Gilbert Bell, according to Variety.
Nichols' son, Kyle Johnson also wrote a statement on Uhura, which is the official website of Nichelle Nichols.
Advertisement - story continues below
"Dear Friends, Fans, Colleagues, World, I regret to inform you that a great light in the firmament no longer shines for us as it has for so many years. Last night, my mother, Nichelle Nichols, succumbed to natural causes and passed away. Her light, however, like the ancient galaxies now being seen for the first time, will remain for us and future generations to enjoy, learn from, and draw inspiration. Hers was a life well lived and as such a model for us all," Johnson wrote.
He added, "I, and the rest of our family, would appreciate your patience and forbearance as we grieve her loss until we can recover sufficiently to speak further. Her services will be for family members and the closest of her friends and we request that her and our privacy be respected."
He concluded his statement by writing, "Live Long and Prosper, Kyle Johnson."
Advertisement - story continues below
Nichols was best known for her role as Lieutenant Uhura on the show "Star Trek," and was also an accomplished singer and dancer in Chicago and New York City, according to CNN.
Nichols also broke racial barriers with her role and had the first scripted, interracial, on-screen kiss in 1968, with co-star William Shatner.
"It changed television forever and it also changed the way people looked at one another. If two of their favorite actors can battle through it and come through it on top, why can't everybody?" Nichols said of the kiss.
Nichols also worked with NASA to volunteer her time to recruit diverse astronauts, which included women and ethnic minorities, and to promote NASA's programs, according to The Emmys.
Truth and Accuracy
We are committed to truth and accuracy in all of our journalism. Read our editorial standards.
Comment Down Below
Conversation