News
Nicholas Sandmann Calls on Rittenhouse to Sue the Media for Defamation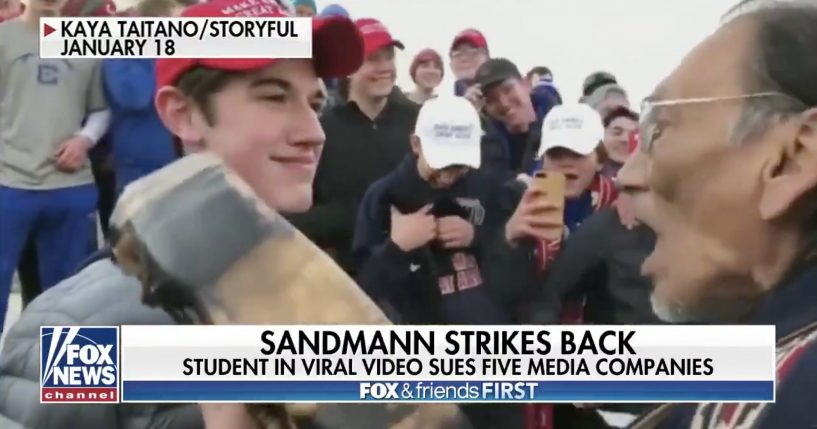 Nicholas Sandmann is urging Kyle Rittenhouse to "hold the media accountable."
Sandmann, a Covington Catholic High School student, received backlash after a video went viral showing an interaction between himself and Omaha Tribe elder Nathan Phillips at the Lincoln Memorial in 2019.
He later filed lawsuits against The Washington Post, CNN, and NBC for their reporting on the incident. Fox News reported in March of 2020 Sandmann was in the process of filing new lawsuits against The New York Times, Gannett, ABC News, CBS News, and Rolling Stone.
Advertisement - story continues below
Covington Catholic student, Nicholas Sandmann, will sue additional news outlets over their coverage of his March for Life 'standoff.' pic.twitter.com/O5iZTkutsK

— Fox & Friends First (@FoxFriendsFirst) March 2, 2020
Sandmann penned an op-ed published by The Daily Mail titled, "The corrupt liberal media came for me, just like they came for Kyle Rittenhouse, and if he decides to sue I say go for it and hold the media accountable."
Rittenhouse is facing several charges related to a shooting that took place during the unrest that broke out following the police shooting of Jacob Blake.
Opening his op-ed, Sandmann argued, "The parallels between me and Kyle Rittenhouse are impossible not to draw."
Advertisement - story continues below
He continued, "Kyle was almost immediately labelled a 'white supremacist' and a 'domestic terrorist'. To many, my red MAGA hat clearly meant that I was a racist."
Suggesting the "attacks on Kyle came from the national news media," Sandmann added, "They came quickly, without hesitation, because Kyle was an easy target that they could paint in the way they wanted to."
Should Rittenhous sue the media?
Taking aim at the "liberal media," Sandmann suggested, "Every single label on Kyle as a 'terrorist', 'white supremacist', and 'school shooter' in the streets of Kenosha, will only ever be withdrawn after the damage has been done."
He also had a message for President Joe Biden, Rep. Ayanna Pressley (D-Mass.), LeBron James, and other commentators, saying, "Please be quiet."
Sandmann went on to acknowledge the effects of the shooting on Rittenhouse.
Advertisement - story continues below
"Not only does Kyle have to deal with that, but it is compounded with the overwhelming stress and trauma of the character assassination taking place against him," he wrote.
Turning his attention to whether Rittenhouse should sue, Sandmann noted "defamation cases are some of the hardest cases to win."
He continued, "Should Kyle sue? It first depends on what happens in the trial, as those elements would come into play were he found guilty. However, if Kyle is innocent it would create an easier road to winning."
According to Sandmann, he is still involved in six media lawsuits.
Advertisement - story continues below
Concluding his piece, Sandmann wrote, "One of the saddening parts of this media onslaught is that it has taken young people like Kyle and myself to expose how corrupt the media really is."
Truth and Accuracy
We are committed to truth and accuracy in all of our journalism. Read our editorial standards.
Comment Down Below
Conversation