News
NIH Director: China Should Be 'Transparent' if 'They Are Offended' Amid Search for COVID-19 Origins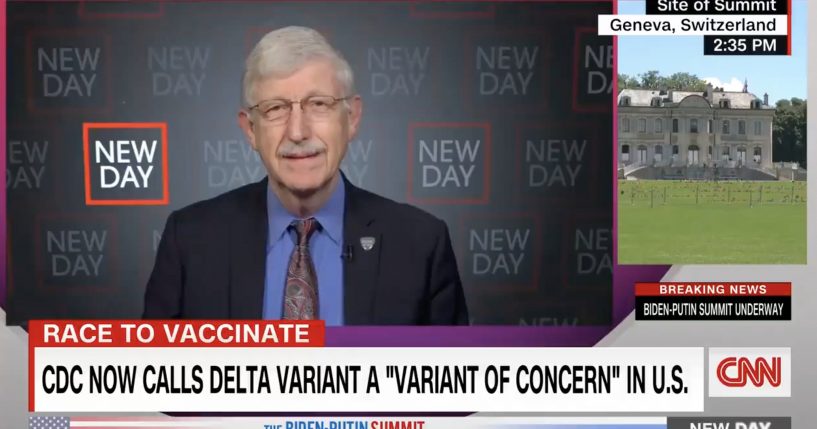 The head of the National Institutes of Health (NIH), Francis Collins, is advising China to be more transparent if they take offense to "all of these insinuations" amid the search for the origins of COVID-19.
CNN's John Berman pointed out recent comments made by former U.S. Centers for Disease Control and Prevention (CDC) Director Robert Redfield about scientists not being open to the lab leak theory early enough.
"I guess if I am disappointed about anything about the early scientific community, it's that there seemed to be lack of openness to pursue both hypotheses," Redfield said.
Advertisement - story continues below
When asked if he thinks that is fair, Collins replied, "Not entirely."
He reflected on a meeting that occurred including himself and Dr. Anthony Fauci on February 1, 2020, "where the experts on analyzing the genome sequence of this virus got together on a conference call to look at every detail to say, 'Could this have been human engineered?'"
Collins added, "Ultimately after a lot of back and forth … the conclusion was no."
Watch his remarks below (starting at 4:00):
Advertisement - story continues below
"We call on China to really open up, something they have not done," @NIHDirector Francis Collins says about the search for Covid-19's origins. "… If they are offended by all of these insinuations," then they need to be transparent, he says. https://t.co/wv2qddC22y pic.twitter.com/XfleA7MdUb

— New Day (@NewDay) June 16, 2021
He claimed their minds were "open then and they're open now." Collins also explained the lab leak theory and the theory of natural origins are both possible.
"We call on China to really open up, something they have not done and to be more transparent about what could be known there and if they're offended by all of these insinuations, well their best protection is to be transparent," Collins said.
The lab leak theory gained more attention following reporting by The Wall Street Journal last month on a State Department fact sheet issued during the Trump administration. The fact sheet showed three researchers from China's Wuhan Institute of Virology were hospitalized in 2019.
It said they were hospitalized "with symptoms consistent with both Covid-19 and common seasonal illness."
Advertisement - story continues below
President Joe Biden also asked the intelligence community to "redouble" its investigation into the origins of the virus, as IJR previously reported.
Last week, Fauci told MSNBC most scientists believe "the most likely origin is a natural origin from an animal reservoir to human."
Still, he said, "We have not ruled out the possibility that there could have been a leak from the lab of them working on the virus. It could have been that somebody was infected early on, they brought them into the lab, and it came out into the lab, and it was already out in the community."
Truth and Accuracy
We are committed to truth and accuracy in all of our journalism. Read our editorial standards.
Conversation