News
No. 2 Senate Republican Vows GOP Will Not Change Filibuster When They Are in Power – But There's a Catch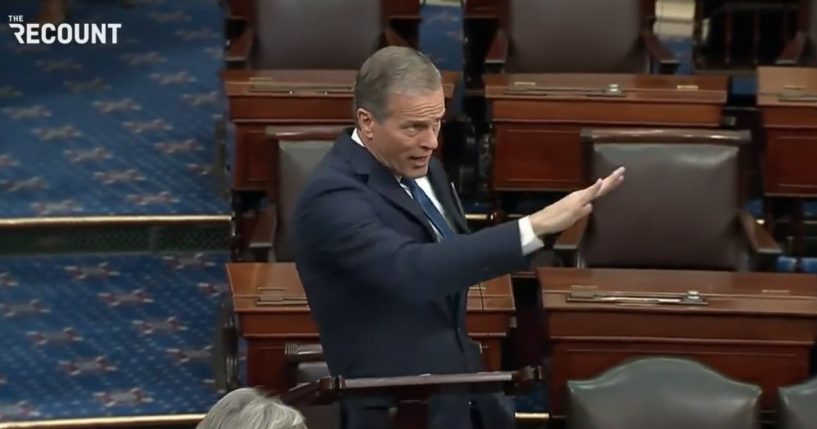 Senate Minority Whip John Thune (R-S.D.) is vowing that Republicans will not make changes to the filibuster but says that promise is contingent upon the actions of Senate Democrats.
In a floor speech on Wednesday, the No. 2 Senate Republican said, "We had the pressure to do this, you know that. Thirty-four times, our president in the last administration, 34 times tweeted publicly, demanding that Republicans get rid of the filibuster. And we resisted it."
"And I've had people in the media ask me, 'Well, I've heard that your side is saying too well the Democrats, you know, if we don't do it now the Republicans will do it.' No, we're not gonna do it, not if you don't. If you do, sure, then it's all bets are off," he continued.
Advertisement - story continues below
Finally, he said, "And then the Senate becomes the House Representatives and policy changes every two years or every four years depending on who's in power. And there's no stability, and there's no predictability, there's no moderation."
Watch the video below:
Number two Senate Republican John Thune (R-SD) promises Republicans won't change the filibuster when they're next in the majority — unless Democrats do now.

"We're not gonna do it, not if you don't. If you do, sure. Then it's all bets are off." pic.twitter.com/TmjHw9RPKL

— The Recount (@therecount) January 19, 2022
His speech comes as Senate Majority Leader Chuck Schumer (D-N.Y.) is expected to hold a vote to make changes to the filibuster, which requires 60-votes to overcome and advance legislation, as Democrats hope to pass voting rights legislation.
Advertisement - story continues below
In March 2021, Rep. Joaquin Castro (D-Texas) claimed that Senate Minority Leader Mitch McConnell (R-Ky.) "will not hesitate to completely remove that rule when back in power."
Glenn Kessler, The Washington Post's fact-checker, noted that McConnell did change the filibuster rules in 2017 so Senate Republicans could confirm Supreme Court Justice Neil Gorsuch with a simple majority.
Do you think Republicans would change the filibuster?
However, he pointed out, "When McConnell was the majority leader, he never took that step even though Trump kept insisting, over and over, that Republicans needed to eliminate the filibuster on legislation."
"Indeed, McConnell had consistently argued against changing the rules when he was in the minority — and then again when he was in the majority," Kessler added.
Truth and Accuracy
We are committed to truth and accuracy in all of our journalism. Read our editorial standards.
Comment Down Below
Conversation