News
Ilhan Omar Claims Progressives Are Being 'Held Hostage' by 'Conservative Democrats'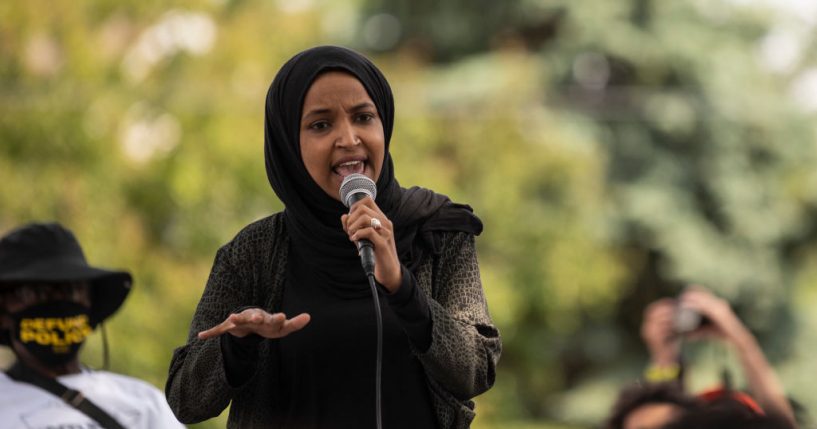 Rep. Ilhan Omar (D-Minn.) claims moderate Congressional Democrats are holding progressives "hostage."
During an interview on SiriusXM's "The Dean Obeidallah Show," Omar was asked what progressives would do if the House holds a vote on the roughly $1 trillion bipartisan infrastructure package without the $3.5 trillion spending package on Monday.
Omar responded by noting that House Speaker Nancy Pelosi (D-Calif.) said both the reconciliation bill and the infrastructure bill would be passed together. She said that if there is a "change in a strategy," House progressives will vote against the smaller bill.
Advertisement - story continues below
"Senate progressive leaders put out a statement today reminding conservative Democrats that there was a deal made. The deal was that we will support the infrastructure bill if they supported the reconciliation budget resolution, and if they go back on their deal, we're going back on our deal — and I don't think anybody wants that to happen because it doesn't benefit any one of us," she added.
Finally, Omar added, "It's essential that we get it done in tandem. Progressives — as you have alluded to — have made lots of compromises to get us here, and you know we are currently being held hostage by conservative Democrats who are doing the bidding of big Pharma, big oil, and Wall Street. But I am optimistic that we will overcome, and we will deliver on behalf of the American people."
Listen to the interview below:
Advertisement - story continues below
The House is expected to vote on a roughly $1 trillion bipartisan infrastructure package, but with a slim margin in the House, Democrats have little room for defections.
Shortly after President Joe Biden announced that he had reached a deal on the bipartisan infrastructure package, Congressional Democrats said they wanted to pass that bill as well as a larger $3.5 trillion spending package, and progressives have linked the fate of the two bills.
However, even if the House passes both bills, the fate of the larger spending package is uncertain in the Senate.
Democrats are hoping to use a process known as budget reconciliation, which is immune from a filibuster, to pass the spending package with just 51 votes, with Vice President Kamala Harris casting the tie-breaking vote.
In order for that process to work, all 50 Democrats would have to vote for the spending bill. However, Sen. Joe Manchin (D-W.Va.) has said he will not vote for a bill with a $3.5 trillion price tag.
Advertisement - story continues below
Rep. Pramila Jayapal (D-Wash.), the chair of the House Progressive Caucus, signaled that members of her caucus are ready to sink the smaller bipartisan bill unless they also vote on the $3.5 trillion spending package at the same time.
"More than half our members, will not move the bipartisan bill without the reconciliation bill being passed," she told CNN on Wednesday.
Losing 48 Democrats would sink the infrastructure bill unless Republicans voted for it. However, Politico notes that it is expected that fewer than a dozen House Republicans will vote for it.
Truth and Accuracy
We are committed to truth and accuracy in all of our journalism. Read our editorial standards.
Conversation