News
Omicron Variant Neutralized by Third Pfizer COVID Shot, Company Says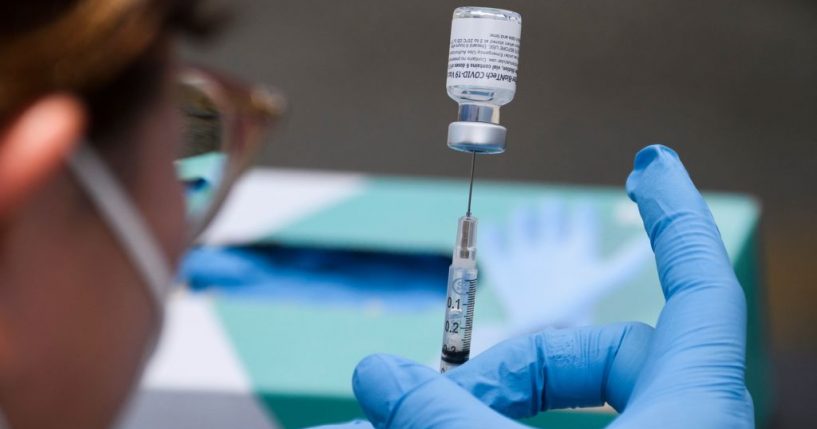 Pfizer and BioNTech's preliminary studies found that a third shot against COVID-19 neutralized the Omicron variant.
The company made the announcement on Wednesday, writing that two doses of the vaccine "significantly reduced neutralization titers." And, results "from an initial laboratory study" demonstrate "that serum antibodies induced by the Pfizer-BioNTech COVID-19 Vaccine (BNT162b2) neutralize the SARS-CoV-2 Omicron variant after three doses."
Albert Bourla, Chairman and Chief Executive Officer, Pfizer, wrote in a statement, "Although two doses of the vaccine may still offer protection against severe disease caused by the Omicron strain, it's clear from these preliminary data that protection is improved with a third dose of our vaccine."
Advertisement - story continues below
"Ensuring as many people as possible are fully vaccinated with the first two dose series and a booster remains the best course of action to prevent the spread of COVID-19," he added.
Additionally, Ugur Sahin, M.D., CEO and Co-Founder of BioNTech, said in a statement:
"Our preliminary, first dataset indicate that a third dose could still offer a sufficient level of protection from disease of any severity caused by the Omicron variant. Broad vaccination and booster campaigns around the world could help us to better protect people everywhere and to get through the winter season. We continue to work on an adapted vaccine which, we believe, will help to induce a high level of protection against Omicron-induced COVID-19 disease as well as a prolonged protection compared to the current vaccine."
The press release also notes that the company has been working on an Omicron-specific COVID-19 vaccine since November 25.
Advertisement - story continues below
It reads, "The development will continue as planned in the event that a vaccine adaption is needed to increase the level and duration of protection against Omicron. First batches of the Omicron-based vaccine can be produced and are planned to be ready for deliveries within 100 days, pending regulatory approval."
Over a 14-day change, there has been a 27% increase in COVID cases reported in the U.S., as well as an increase in hospitalizations and deaths related to the coronavirus, according to The New York Times.
Sixty percent of all Americans are fully vaccinated against COVID-19, according to the U.S. Centers for Disease Control and Prevention. Twenty-four percent of all Americans who are fully vaccinated have received a booster shot, as of data collected since August 13.
President Joe Biden said on November 29, "This variant is a cause for concern, not a cause for panic," adding, "We have the best vaccine in the world, the best medicines, best scientists, and we're learning more every single day. We'll fight this variant with scientific and knowledgeable actions and speed, not chaos and confusion."
The president announced on December 2 new actions the administration is taking to combat the Delta and Omicron variants. It includes "calling on employers to follow the federal government's lead and provide paid time off to their employees to get boosted," expanding free at-home testing, stronger protocols for international travel, and more.
Truth and Accuracy
We are committed to truth and accuracy in all of our journalism. Read our editorial standards.
Comment Down Below
Conversation