Operation Warp Speed Head Suggests Concern About COVID Vaccine 'Has Been Exacerbated by the Political Context'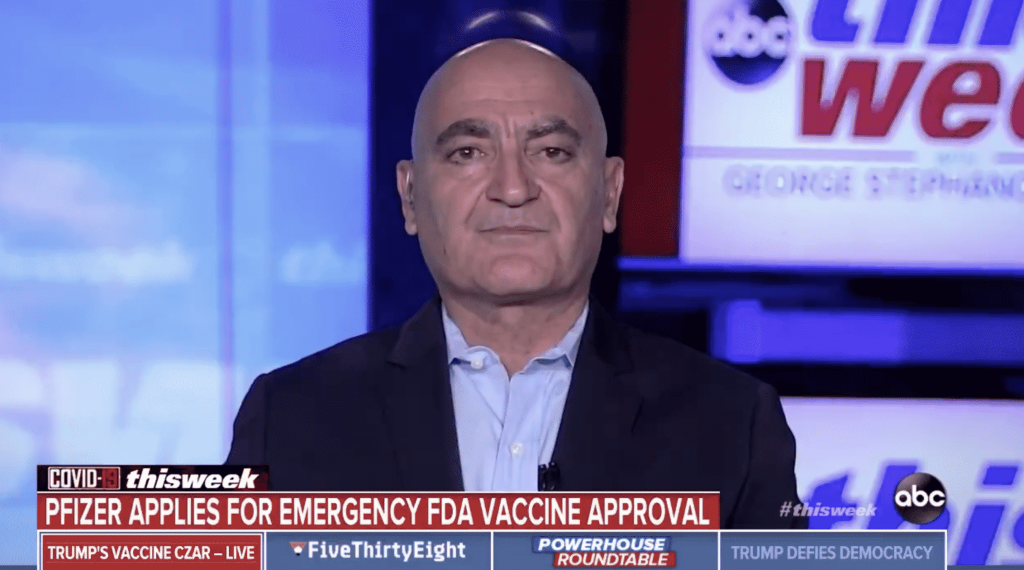 Operation Warp Speed Chief Science Adviser Dr. Moncef Slaoui is concerned the COVID-19 vaccine has been politicized.
ABC's George Stephanopoulos explained there is hesitancy among frontline workers to take the vaccine.
He asked Slaoui what that means for the general population as there has been skepticism about the vaccine.
"I'm very very concerned about the hesitancy as it exists and I think it's very unfortunate because this has been exacerbated by the political context under which we have worked very hard with the companies and the thousands of people that have been involved to make these vaccines available," Slaoui said.
He argued the vaccines are "highly effective" and "as safe in the short term" as any of the vaccines that have been approved.
Watch his comments below:
Operation Warp Speed chief science adviser Dr. Moncef Slaoui says he's "very concerned" about hesitancy surrounding COVID-19 vaccine that "has been exacerbated by the political context."

He would be "happy" to take it and have his family take it, he adds. https://t.co/FRV7EGoEAB pic.twitter.com/8QoOxL0fQx

— This Week (@ThisWeekABC) November 22, 2020
Slaoui expressed confidence in the vaccines himself.
"I'll be happy to take the vaccine. I'll be happy to have my children or my parents have the vaccine," he said.
Slaoui urged Americans not to make up their minds until they have listened to what the experts have to say.
Final trial results reported by Pfizer and German partner BioNTech SE showed the vaccine was 95% effective, as IJR previously reported.
Just days later Pfizer applied for emergency use of the vaccine.
President Donald Trump argued the drug company waited to reveal the trial results until after the election on purpose, as IJR previously reported.
"Pfizer and others even decided to not assess the results of their vaccine, in other words, not come out with a vaccine until just after the election. That's because of what I did with favored nations and these other elements," Trump said.
He continued, "Instead of their original plan to assess the data in October, so they were going to come out in October, but they decided to delay it because of what I'm doing which is fine with me because frankly, this is just a very big thing."