News
Sarah Palin Caught Dining in NYC 2 Days After Testing Positive for COVID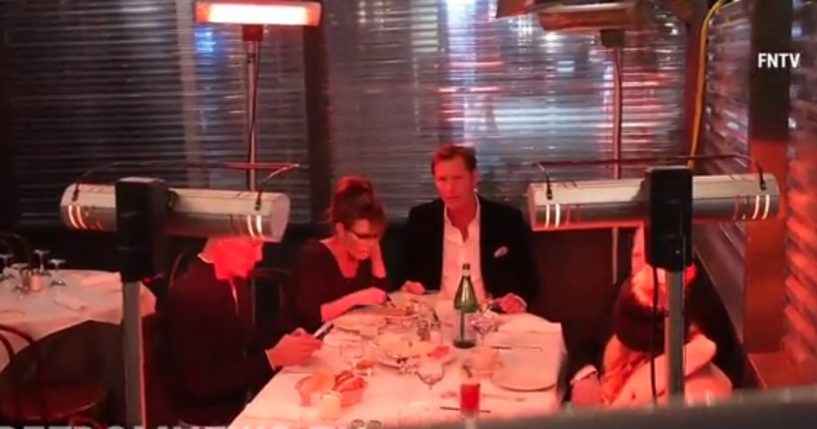 Former Alaska Gov. Sarah Palin (R) was seen dining in New York City just two days after testing positive for COVID-19.
According to the New York Post, "Palin, 57, ate at Elio's on the Upper East Side in a heated outside structure" on Wednesday.
It added that the restaurant confirmed former vice presidential contender dined there on Wednesday.
Advertisement - story continues below
One employee told the Post, "S*** happens! People come to eat, we are not the border police."
Elio's manager, Luca Guaitolini, said in a statement, "In accordance with the vaccine mandate and to protect our staff, we seated her outdoors … We are a restaurant open to the public, and we treat civilians the same."
Palin is not vaccinated and said in 2021 that it would "be over my dead body that I'll have to get a shot." She tested positive for the virus on Monday.
A video captured Palin dining with others:
Advertisement - story continues below
#HappeningNow Sarah Palin seen dining at a Manhattan restaurant. She is in the city for a trial against the NYT @nytimes, which was reportedly delayed due to her testing positive for Covid19, 2 days ago, according to Forbes pic.twitter.com/npJaQDf110

— Scootercaster (@ScooterCasterNY) January 27, 2022
A video captured Palin leaving the restaurant, and someone can be heard asking, "Ms. Palin, do you have any comment about dining while you're Covid positive?"
She did not respond.
COVID-positive Sarah Palin has now dined al fresco on the Upper East Side two nights in a row. After eating at Campagnola Tuesday, she returned to Elio's last night — where she reportedly flouted the city's vax mandate this weekend https://t.co/UHl2B2HUSn pic.twitter.com/6OaQPaDgN0

— Jake Offenhartz (@jangelooff) January 27, 2022
According to Gothamist, Palin dined at a separate restaurant on Tuesday.
Advertisement - story continues below
A City Hall spokesperson urged "any New Yorker who came into contact with Ms. Palin to get tested, just as we encourage all New Yorkers to get tested regularly, especially those who believe they may have been exposed to someone who tested positive for COVID-19."
Patrons of restaurants in New York City are required to provide proof of vaccination. However, Gothamist notes that the "requirement does not extend to outdoor dining."
Additionally, Elio's will reportedly not be fined for allowing Palin to dine there because it was not witnessed by an inspector.
She caused a stir over the weekend after she dined indoors at Elio's.
Advertisement - story continues below
The Centers for Disease Control and Prevention (CDC) recommends that "people with COVID-19 should isolate for 5 days and if they are asymptomatic or their symptoms are resolving (without fever for 24 hours)."
After that, it recommends that they wear a mask for another five days.
Truth and Accuracy
We are committed to truth and accuracy in all of our journalism. Read our editorial standards.
Comment Down Below
Conversation